BLOODSISTERS 25-YEAR ANNIVERSARY TOUR NOW STREAMING ON VIMEO
25 Year Anniversary – BLOODSISTERS LEATHER, DYKES AND SADOMASOCHISM – Directed by Michelle Handelman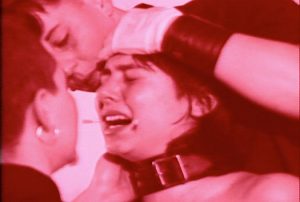 25 years after its release, BLOODSISTERS, Michelle Handelman's ground-breaking documentary on the San Francisco leather dyke scene is as vital as ever. This queer classic features the players who started the current conversation on gender fluidity and radical sexuality, and reminds us that now, more than ever, we need to keep vigilant on queer and trans rights.
BLOODSISTERS LEATHER, DYKES AND SADOMASOCHISM (1995)
directed by Michelle Handelman
70 min, color, English language, Hi-8 video transferred to HD, digital formats.
Watch the Entire BLOODSISTERS Programme for Free
BLOODSISTERS 25-year anniversary tour was set to kick off at the London BFI Flare 2020 Festival. British Film Institute programmer Jay Bernard had organized a post-screening panel called BODILY AUTONOMY to discuss the significance of BLOODSISTERS 25 years on – looking at consent laws and trans rights in 2020. Since all cultural events have been shuttered due to the pandemic, we've made the entire program available online with free access to BLOODSISTERS, the two opening films RITUAL WAVES (Dir. Lina Bembe) and TRIBUTE (Dir. Max Disgarce & Lina Bembe) and statements from the panelists Michelle Handelman, Lina Bembe, Max Disgrace and Venus. Stay tuned as we present more programs throughout the year, including an online live panel discussion in collaboration with PARTICIPANT INC during Pride Month (Date TBA).
CLICK HERE TO WATCH the entire BLOODSISTERS program. Free streaming through the end of Pride Month–June, 2020.
BLOODSISTERs Description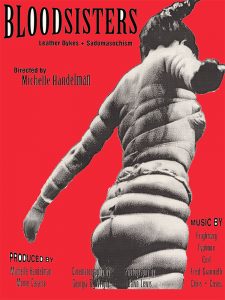 During the early 1990s, San Francisco was the epicenter of body modification and gender nonconformity with transgender pioneers like Patrick Califia and Tala Brandeis fighting for visibility, alongside the voice of a bold S/M community speaking out for equal rights.
Michelle Handelman's BLOODSISTERS captures these queer outlaws in a DIY fashion, just like the activism of the era. From pushy bottoms to macho femmes, BLOODSISTERS is an A-Z documentary guide that takes an in-depth look at the San Francisco leather dyke scene, shattering assumptions about gender and lesbian sexuality, while broadening the discussion about personal expressions of eroticism and their political implications. Eight self-described leather dykes tell their stories about participating in a subculture cast off by its own immediate ally, the larger lesbian community.
BLOODSISTERS premiered at the 1995 Frameline Film Festival, then went on to screen at over 50 festivals and venues in London, Berlin, Amsterdam, New York, Los Angeles, Melbourne – all in all, over eleven countries, with broadcasts on England's Bravo TV and Channel 4, in addition to German, Italian, and Australian television. Winner of Bravo Award, Manchester Film Festival.
Originally distributed by Women Make Movies, an organization that received NEA support, BLOODSISTERS was at the heart of a censorship controversy when the NEA was up for ratification in the late 1990s. This controversial film was attacked in congress by the American Family Association for its depictions of radical lesbian sexuality, but the film reveals a fluidity to role-playing that is far more complex. As one woman declares, "S/M is about finding your own boundaries and moving beyond…claiming your own agency."
A soundtrack by Riot Grrrl bands Frightwig and Typhoon, and industrial music pioneers Coil and Chris & Cosey propel the film toward its climax with a powerful and urgent energy.
BLOODSISTERS was the first film to represent this queer community on the fringes. It features the players who started the current conversation on gender fluidity and radical sexuality, and reminds us that now, more than ever, we need to keep vigilant on queer and trans rights.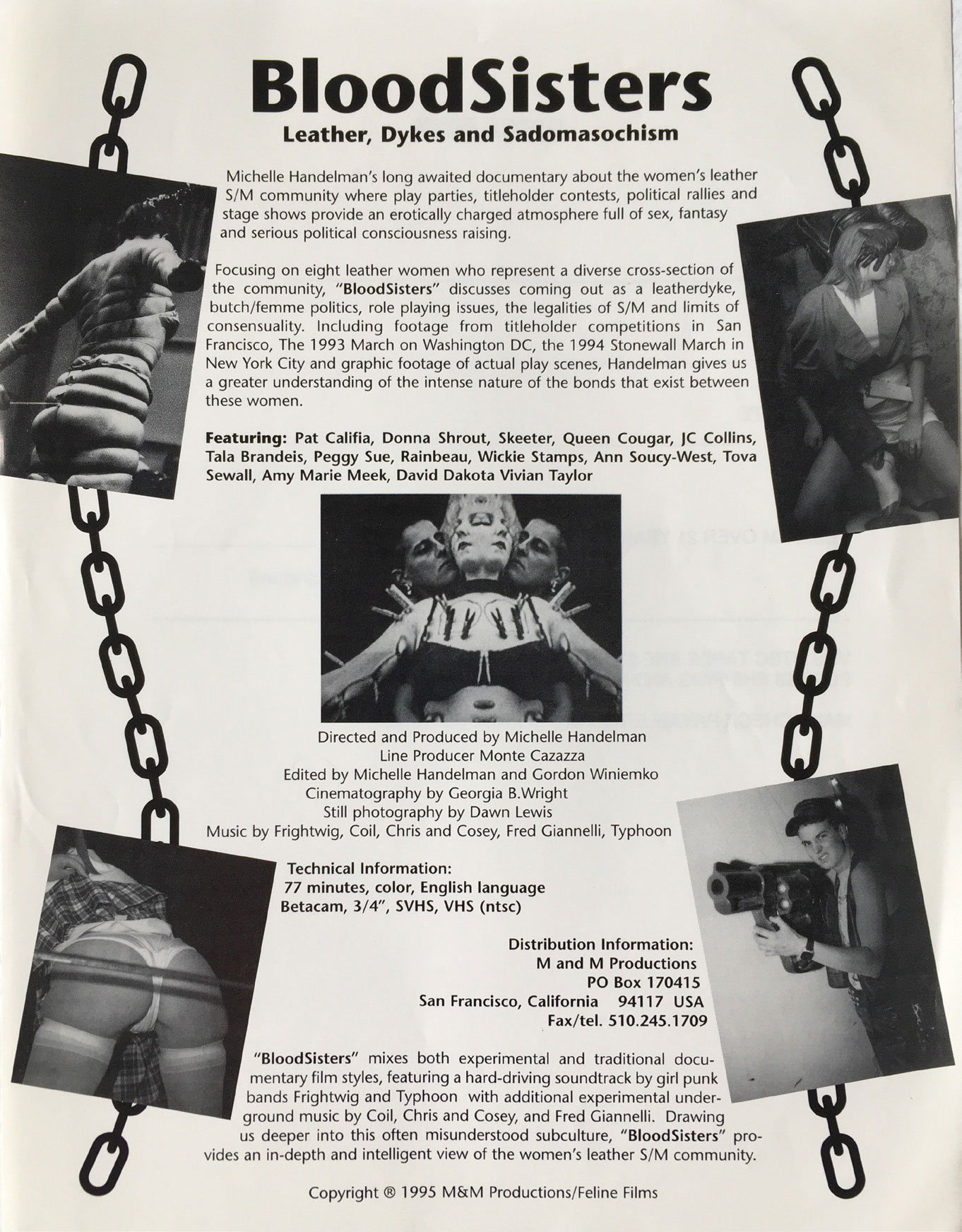 BLOODSISTERS original one-sheet from 1995, courtesy of Michelle Handelman.
About Michelle Handelman
MICHELLE HANDELMAN is a filmmaker, visual artist and writer who makes confrontational works about sexuality, gender and desire. Raised during the late 1960s, Handelman split her time between Chicago, where her mother was a fixture in the art world, and Los Angeles, where her father was a player in the sex industry. Her art developed through great struggle and loss throughout the era of the AIDS crisis and over the years, Handelman has voraciously traversed all these worlds, developing a body of work that investigates ways of looking at the forbidden and revealing the dark, subconscious layers of outsider agency.
Her recent multiscreen installations Hustlers & Empires (2018); Irma Vep, The Last Breath (2013/15); Dorian, A Cinematic Perfume (2009/12); and This Delicate Monster (2004/07) are all large-scale, multichannel video and performance works that were successfully produced in partnership with multiple venues including the San Francisco Museum of Modern Art, Broad Art Museum, MIT List Visual Arts Center, The Henry Art Gallery, Participant, Inc., and the Contemporary Austin.
She is a 2019 Creative Capital Awardee; a 2011 Guggenheim Fellow and has been awarded grants from New York Foundation for the Arts, New York State Cultural Agency, and Creative Capital MAP Fund among others. Her work has shown internationally including SFMOMA, Pompidou Centre, Paris; ICA, London; Guangzhou 53 Art Museum; PERFORMA, Krannert Art Museum; Lincoln Center; REDCAT and The Aldrich Museum of Contemporary Art. Her work has been widely reviewed in The New York Time, Art in America, Art Forum and featured in catalogs for many exhibitions including Virtuoso Illusion: Cross-Dressing and the New Media Avant-Garde and Moving Time: Video Art at 50. Other projects include Passerby> Ghost Sites for the show public.exe: Public Execution (Exit Art 2004) curated by Anne Ellegood and Michele Thursz; DJ Spooky vs. WebSpinstress M (2002) an animated collaboration with Paul Miller AKA DJ Spooky, and in 2007 Bloomingdale's chose Handelman's work for their Fall Art Campaign.
Handelman was based in San Francisco during the 1990s where she produced and directed the award-winning feature documentary BLOODSISTERS, an in-depth look at the San Francisco leather dyke scene. She collaborated for many years with Monte Cazazza, a pioneer of the Industrial music scene. Together they created several bodies of work including The Torture Series (Sony Visions Award 1995) and the film Catscan (1990). She also performed in several films by Lynn Hershman-Leeson, collaborated with Eric Werner, co-founder of the industrial performance group Survival Research Laboratories, and worked on Jon Moritsugu's film Terminal USA.
Handelman's work is in the collection of Moscow Museum of Contemporary Art; Kadist Art Foundation SF/Paris; di Rosa Foundation and Preserve, Napa, California; Zabludowicz Art Trust, London. Her fiction and critical writing appear in several anthologies including Inappropriate Behaviour (Serpents Tail, London 2001) and Apocalypse Culture (Feral House Press 1994). She is an Associate Professor in the Film & Media department at the Fashion Institute of Technology, NYC. She lives in Brooklyn, New York.
Related Links
Watch the trailer of BLOODSISTERS
Video: Michelle Handelman Interview