Book Launch: Queer Threads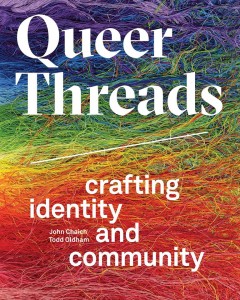 Queer Threads
Edited by John Chaich and Todd Oldham
Book Launch: May 11, 6 – 8 pm
Leslie-Lohman Museum of Gay and Lesbian Art
26 Wooster Street
New York, New York 10013, USA
Inspired by the traveling exhibition [Queer Threads: Crafting Identity & Community] that debuted at the Leslie-Lohman Museum in 2014, this full-color coffee table book features an international, intergenerational mix of contemporary LGBTQ artist remixing fiber crafts, interviewed by a range of culture makers including Jonathan Adler, Justin Vivian Bond, Michael Cunningham, Tim Gunn, Kathleen Hanna, Glenn Ligon, Bill T. Jones, and more.
Launch event will feature DJ JD Sampson, champagne toast courtesy of Verity Wine Partners, and silent auction of limited edition tote by artists Chiachio and Giannone. Published by AMMO Books, on site book sale courtesy of The Bureau of General Services Queer Division.
RSVP to: john@chaichcreative.com
Queer Threads: crafting identity and community
'Designed by Todd Oldham and edited by John Chaich, this 192-page, hardcover, 8 x 10-inch book features full-color spreads of each artist's work, along with intimate details of selections and artist studios, as well as an introductory essay by Chaich, who curated the exhibition of the same name that inspired this book.
To further examine how queerness informs their work in fiber and textiles, or vice versa, the artists are interviewed by makers and thinkers from the worlds of dance, design, fashion, media, music, museums, scholarship, and more—many members of the LGBTQ community themselves, and otherwise passionate allies.' – ammobooks.com