Brighton: 18th Annual Lesbian Lives Conference
18th Annual Lesbian Lives Conference on 11-12 February 2011 in Brighton, UK. Hosted by University of Brighton LGBT and Queer Life Research Hub in conjunction with Women's Studies Centre, University College Dublin. The theme of the conference is 'Revolting: Bodies, Politics & Genders'. The conference will present papers and works by academics, scholars, students, activists, documentary and film-makers, writers and artists.
About Lesbian Lives XVIII
The Lesbian Lives Conference has been organised by the Women's Studies Centre at University College Dublin for the past seventeen years and in 2011 it celebrates its 18th birthday in Brighton. The conference is a mix of academics, activists, performers, artists and writers and is open to all genders and any political and sexual orientations. There is an ethos of welcome and accessibilty.
Confirmed Speakers include:  Ali Smith, Emma Donoghue, Joan Nestle, Davina Cooper, Sarah Franklin, Reina Lewis, Caroline Gonda and Rose Collis. Panels include Irish Lesbian Activism and screenings by Irish Queer Women film and videomakers.
The organisers say: Brighton is easily accessed by train from Gatwick Airport – the journey is less than 30 mins. Aer Lingus, British Airways, Ryanair, BMI, Air Southwest all connect Ireland and Gjatwick.
Lesbian Lives XVIII
c/o Dr Kath Browne
University of Brighton
School of the Environment & Technology
Cockcroft Building, Lewes Road
Brighton BN2 4GJ
UK
Join Lesbian Lives on Facebook.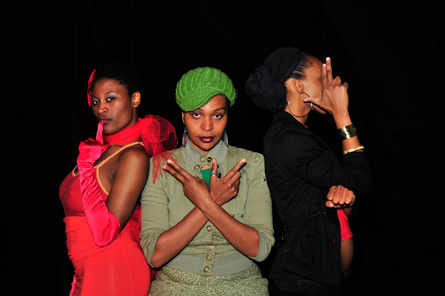 'Black Girl Ugly 2010', photo by Sherley Camille Olopherne
Art And Arts Related Workshops At Lesbian Lives XVIII
I have had a look at Lesbian Lives XVIII's programme.  At the conferencey you can join workshops lots of workshops! Here is a list with a few samples which may be of interest to you dear arts professionals and art lovers.
Fingering our Histories: Exploring our Archives
– Lizzie Thynne (Sussex): Surrealism and Resistance: The War-time Campaign of Artists Claude Cahun and Marcel Moore
Taken Spaces: Black Lesbians Against White Aesthetics
– Sherley Camille Olopherne (photographer)
Projecting: LGBT Media Representations
– Fiona Philip (Leeds): Inciting Revolt: Bryher and Hollywood's 'Triumphal Bridal Procession'
– Tayfun Tezel (Charles University): Representations of Homosexuality and Homosexual-Oriented Character in Turkish Cinema
– Yasmin max Sason
(UEL): Revolting Lesbians on Israeli Media – Dancing with Conflict on Screening Lesbians on Israeli Media
– Rasha Touqan (LSE): Sex Kitten or Ice Queen: Lesbian Representations in Western Media
Playing a Part: The Story
of Claude Cahun, at Sallis Benney Theatre
– Screening and discussion of 'Playing a Part' (Lizzie Thynne, 2005)
Man for a Day
– Presentation and workshop with Diane Torr
Performing an Erotic
– Gael A Harvey (Essex): Queer Cinécriture: The Body Politic in the Lesbian Aesthetic of Barbara Hammer
Lesbian Gaze
– Sam McBean (Birkbeck): Gazing at the Family Photo: Queer Desires in Alison Bechdel's Fun Home
– Elisha Foust (Royal Holloway): Dykes To Watch Out For: A Meditation on Revolt in the Graphic Novel