Cinch: The Art of Corsetry at Femina Potens Gallery, California
Sketches by Susan Forbes, USA
Femina Potens invites everybody to their next art show
'Cinch: The Art of Corsetry' Visual Art Exhibition February 7 – March 1, 2009. Opening Reception Feb 7th, 7:00-10:00pm at the Femina Potens Art Gallery, 2199 Market Street San Francisco, CA 94114, USA.
Show me your corset and I'll show you mine…
Femina Potens Art Gallery says being laced into a corset can be an exquisitely sensual experience and they know what they are talking about – both Madison Young (co-founder of the gallery) and Michelle Rothman, who co-curated the show, have shown their best corsets to portraitist Suzanne Forbes, who has immortalized the intimite experience in a series of sketches. – See the above slideshow.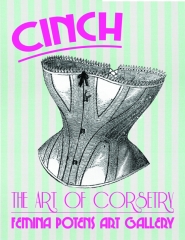 'Cinch: The Art of Corsetry'
is a group exhibition, among the participating artists are three queer women: Ehren Reed, Suzanne Forbes and Catherine Murty.
Suzanne Rachel Forbes was born and raised in Manhattan. She attended Parsons School of Design for two years and then finished her BFA at the Minneapolis College of Art and Design, in the Fine Art Program.Straight out of art school she went to work as a courtroom artist for CBS Television, CNN and several newspapers, as a book illustrator and portraitist, and then as the regular artist on DC Comics' Star Trek, The Original Series for a year and a half. Her current work focuses on traditional portraiture with an alternative flavor, as well as allegories and narrative portraits. Suzanne Rachel Forbes' webpage
Ehren Elizabeth Reed was born and raised outside of Chicago and graduated with a BA in International Studies from Kenyon College in Gambier, Ohio.  She has resided in San Francisco for the past nine years and received a BFA in Painting & Drawing from the California College of the Arts.  Ehren's recent work relies upon books and other found materials as she blends together traditional craft, contemporary media and remnants of consumer culture to investigate contemporary culture, politics and interpersonal relationships.
Catherine Murty has a BFA in sculpture and site specific installation from the San Francisco Art Institute, which included a yearlong exchange to the Rietveld Academy of Art in Amsterdam.
Related
See more drawings by Susan Forbes on her flickr profile: slurkflickr's photostream