Cineffable 2013
Text: mihee-nathalie lemoine a.k.a kimura byol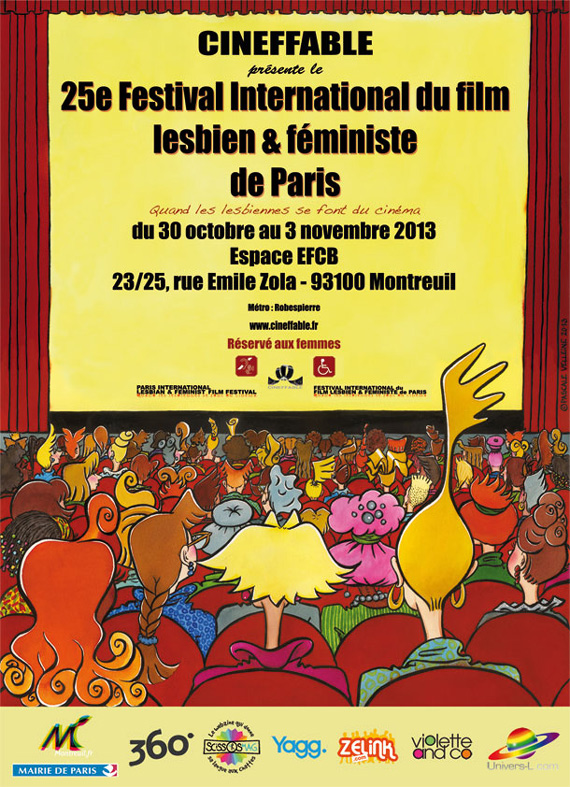 25. Festival 2013 poster by Pascale Velleine
Cineffable 2013:
The 25th anniversary of the French Lesbian & Feminist Film Festival!
Being based for a bit in Brussels, I went to Cineffable Film Festival (October 30 to November 3, 2013) for the first time as a selected filmmaker. The venue at Espace EFCB in Montreuil (East of Paris) had a big screening theatre on the street level floor, and on the second floor a smaller screening room. At the basement there was an exhibition with 8 artists presenting their works (paintings, drawings, photographs, sculpture, etc..) on the theme of women body. [The artists are Bea-A, Carina Wachsmann & Martina Biccheri, Clarisse Rebotier, Iona Hughes, Veradias, Evelin Stermitz, and X.Tin ed.] That space was also used for debates. Another important space was the meeting point for catering and conversation with stalls of groups and shops (Violette and Cie Bookstore, T-shirts). Les Dégomeuses, Collectif Oui Oui Oui and family were also there.
A very nice team of volunteers were welcoming us to a well attended festival. The Veteran Feminists were celebrating in big number, and there were fewer women of the young generation and they were more quiet. I never saw so many salt and pepper short and less short hairstyle in one room! Some volunteer animated sessions with their super heroine costumes, the "Hungry Hearts", a Norwegian collective showed up during the weekend for sporadic interaction with the public; an interactive writing workshop and a lottery were also on the programme.
The strength of this festival lies in the variety of the programme: it was a large (99 films) and very international (about 30 countries) selection of shorts and long feature films, documentaries, experimental, activist, archives, feminist, lesbian, transgender, gender-role. Canada was represented thanks to G.I.V. which presented Dayna McLeod's funny video on "How to fake an orgasm", the documentary "Lesbiana" by Myriam Fougère, two short videos (Lesbian Hand Gestures, Narcissus) by international performance artist Coral Short, and a 100 seconde video "Derrière cette porte" (Behind that door) by South-Korean-Belgian multimedia artist mihee-nathalie lemoine (me).
I couldn't attend every session, but I enjoyed very much the fun, and the video "How to fake an orgasm" by Dayna McLeod gave the tone of the festival. Nice to see her in her mid 20s … now she turned into a sexy cougar! My "Coup de Coeur" was the delicate aesthetic American-Japanese short fiction "Tsuyako" by Mitsuyo Miyazaki and Scisor Mag's Coup de Coeur was "A self-made man" by Lori Petchers. A feeling good video is "The bus Pass" by Lee Narissa. My always-nice-to-watch-it-again is the short film "Narcissus" by Coral Short. The festival also screened documentaries on prisons in Russia, Lesbian vs Lesbian (habitants of Lesbo Island vs sexual orientation). The really informative and eloquent session "Elles s'apphiffent" (lesbian representation in early TV French shows) by Catherine Gonnard and Elisabeth Lebovici was a sold out.
Congratulation and "longue vie" to the festival !!!
Related Links
Cineffable, France
G.I.V.
Dayna McLeod
Coral Short
Myriam Fougère
mihee-nathalie lemoine