Copenhagen – Remains of Eternity by Sif Itona Westerberg
Cross-posted at sifitona.blogspot.dk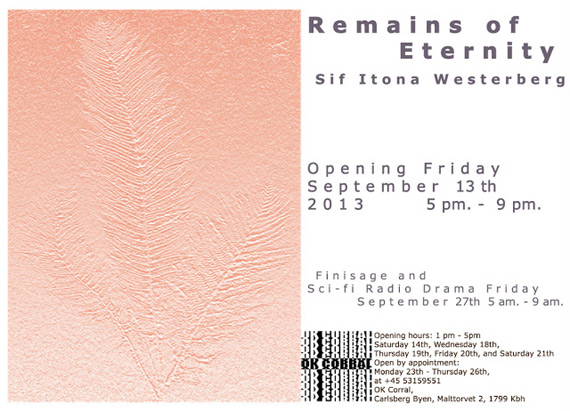 R E M A I N S  O F  E T E R N I T Y
Solo Exhibition by Sif Itona Westerberg at
OK Corral, Carlsberg Byen, Malttorvet 2, 1799 Kbh V
Opening: Friday September 13th 2013, 5pm – 9pm
Opening hours: 1pm – 5pm,
The exhibition is open on: Saturday 14th, Wednesday 18th, Thursday 19th, Friday 20th, and Saturday September 21th, 2013.
Open by appointment: Monday 23th – Thursday 26th open by appointment, call 0045 53159551.
Finisage and a 'Sci-fi radiodrama': September 27th, 2013 at 5pm – 9pm
Remains of Eternity
is an exhibition about digging, excavating, searching and leaving things behind. About holes, through time, and actual solid matter. The installational works of the exhibition, constitutes a strange archive, of time and remains. An echo of presence vibrates between the walls of the exhibition space, oscilliating back and forth between transient immateriallity and the density of eternity.
It all begins with a descent. An opening. A mineshaft. A movement into primordial darkness, where time is consecrated into walls of hard rock, and the possibility of collapse is imminent.
A path of plaster cast tiles is winding its way through the exhibition space. The path constitute a porous membrane between subject and surrounding. A mutually protecting gesture that allows for examination or observation from a safe distance.
Leaning up against the walls are a series of plaster boards. In their surface are fossil imprints of fern leaves. They are miming a landscape surrounding the path, a prehistoric forrest, archived and frozen into hardened organic mass. The archive is created in the hope of a promise of tomorrow. With this clear and structured eternalisation, time is sought stretched and bent. The capacity of the plaster has gone from dust to memory stick.
On an iron shelve, is a satellite photography, of an open-pit mine. The recognizable organic shapes surrounding the open pit, is broken up by the traces of digging, and makes the whole landscape look more like a computer generated sci-fi movie set. A crater on Earth viewed from outer space. A violent absence, a monument in reverse, printed into the surface of the Earth. A never sleeping mine in constant change. Growing larger and deeper every day, swallowing entire cities in its growth. Everything we do leaves traces. Some are created by what we do, and some by what we don't do. Some are simply created by time. Traces are absence and presence combined. Void and object forever reverberating.
About The Artist
Sif Itona Westerberg (DK. 1985) graduates from The Royal Danish Academy of Fine Arts in 2014. Her work concerns social structures in the intersection between the political and the cosmological. Her primary media are sculpture and installation. Her most recent exhibitions are "Stedfortrædere" at MOHS exhibit and "The U in Us is for Utopia" at Fifth Floor, Copenhagen Denmark.
About The Exhibition Space
OK Corral is an artist run project space and studio community housed in the Red Warehouse, a former workshop building in Carlsberg Byen, Copenhagen. The breadth of the OK Corrals interdisciplinary projects range from solo and group exhibitions with national and international artists, open university to cooperation with local and international artist-run spaces.