New York: Craftivism Presents Revolutionary Artists
Text: Coral Short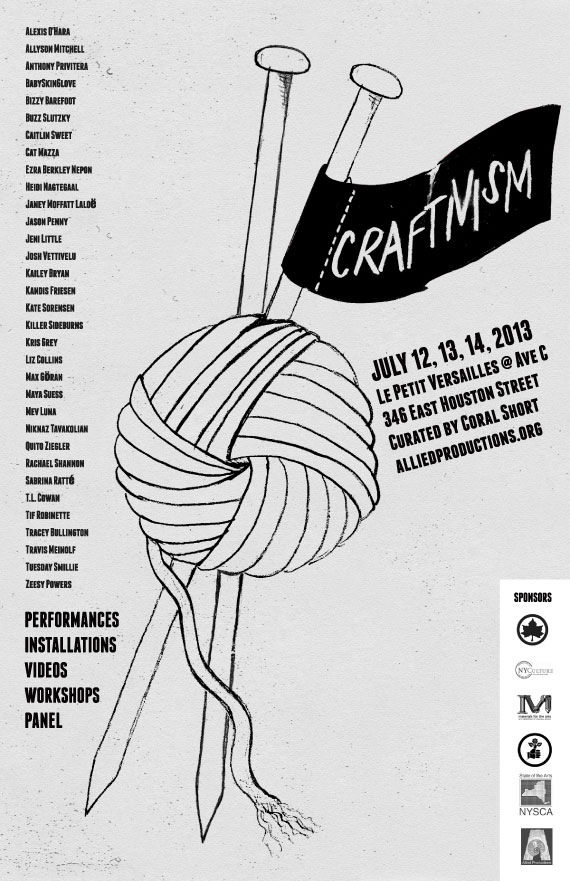 Craftivism Poster. Made by André Azevedo
Craftivism
Exhibition Performances Installations Videos Workshops Panel
July 12, 13, 14, 2013
Le Petit Versailles @ Avenue C 346 East Houston Street, New York
Curated by Coral Short
Curatorial Statement
Coral Short: Craftivism is a welcoming art gathering that showcases an emerging generation of artists for three days in New York City. Queerness, feminism, and textiles go hand in hand for many of these contemporary artists, as they rethink and reclaim craft in their own unique ways. Each artist brings their own distinct voice full of personal politics and private passions to their art making practices. These cultural producers are breaking barriers and boldly crafting in new ways, all the while being mindful of the craft herstories that have come before. The textured radical creations will spill out of the garden and into the streets – interacting with the public on the sidewalks of the Lower East Side. The thriving artistic practises are not only used by these creators as political tools against the powers that be, but also to buttress and strengthen community by creating comforting social architecture. These artists use their skill sets to fight patriarchy, transphobia and homophobia by creating a pop up community together in the lush blooming garden that is Le Petit Versailles.
The way we learn to craft is precious. Crafting is about sharing intimate moments with chosen and blood families. Intimate community building is what we will be doing in the many crafting circles of this gathering. It is usually our grandmothers, mothers and best friends who show us how to thread a sewing machine, to embroider, to rug hook or to cast on. Each artist brings their own particular approach to crafting which results in diverse queer artist practices and methodologies – all which aggrandize our communities. Craftivism is anti-capitalistic and anti-appropriative recognizing that many communities that have utilized craft for generations as a form of survival and expression of cultural heritage. Craft itself is politicized, as it is constantly marginalized in the institutions which seek to exclude or re-name it. Crafting therefore is an outsider art, a rebellion against the establishment who does not want to accept it. Do we want entrance the establishment? Do we want acceptance within their institutions? Many of us have been creating our own feminist queer international networks and communities for years.
Friday night, July 12, there will be a dazzling array of performances predominantly centered around Textiles Arts. On Sunday evening join us for a dinner potluck and short films on craft at sunset. Both events will showcase crafting by quirky artists that make up the backbone of a new queer aesthetic and movement. Get ready for witchy workshops on Saturday and Sunday afternoons from the cultural producers themselves. We delight in being queer deviants and have no shame in our groundbreaking craft deviations – only joy! If you would like to meet these new craft superstars who are working in new ways with familiar mediums we invite you to sit in the garden to get inspired by our Craftivism panel at 11 am Saturday July 13.
We hope to hear from these revolutionary artists on their DIY artistic and curatorial practices that are breathing new life into the queer art world, as well as exploring the intersection between politics and art. We are strengthening real life community through our mutual love of craft by sharing our methods of creation and collaboration with each other. Is there a queer aesthetic? Is there such a thing as queer craft? Come down to the garden and engage in these discussions and view the magnificence that is Craftivism.
Craftivism Artists
Alexis O'Hara, Allyson Mitchell, Anthony Privitera, Baby Skin Glove, Bizzy Barefoot, Buzz Slutzky, Caitlin Sweet, Cat Mazza, Ezra Berkley Nepon, Heidi Nagtegaal, Janey Moffatt Laloë, Jason Penney, Jeni Little, Josh Vettivelu, Kailey Bryan, Kandis Friesen, Kate Sorensen, Killer Sideburns, Kris Grey, Liz Collins, Max Göran, Maya Suess, Mev Luna, Niknaz Tavakolian, Quito Ziegler, Rachael Shannon, Sabrina Ratté, T.L. Cowan, Tif Robinette, Tracey Bullington, Travis Meinolf, Tuesday Smillie, Zeesy Powers.
Related Links
Artist Statement: American Craftswoman Caitlin R. Sweet
Artist Statement: Breastival Vestibule by Rachael Shannon
Artist Statement: Performance and Visual Artist Tif Robinette