Deborah Kelly & Tina Fiveash: Hey, Hetero!
Artist Statement by Deborah Kelly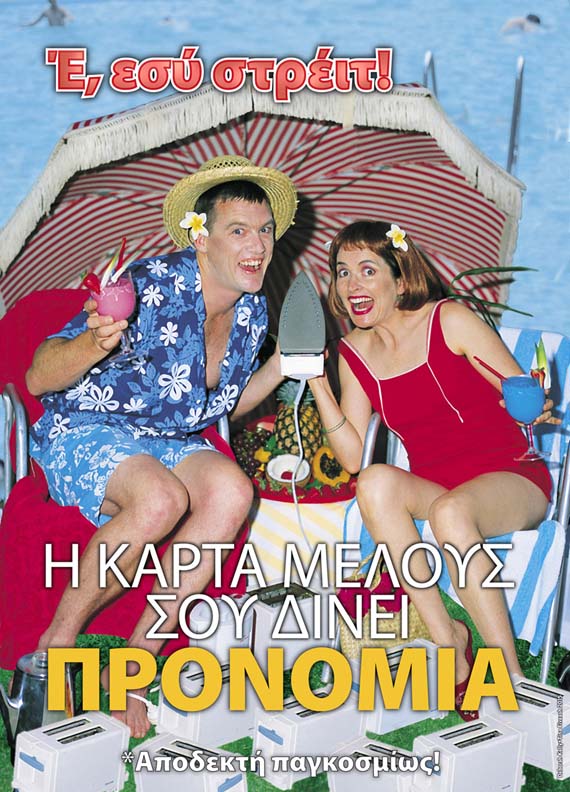 Hey, Hetero! Tina Fiveash and Deborah Kelly, 2015

Hey, Hetero! Tina Fiveash and Deborah Kelly, 2015
The 5th Thessaloniki Biennale of Contemporary Art presents the group exhibition Ident-alter-ity, June 17 – July 31, 2015 in Thessaloniki, Greece. Deborah Kelly & Tina Fiveash's collaborative work Hey Hetero! (2001) was invited to be a part of the exhibition and Deborah Kelly convinced the curators to let her remake Hey Hetero! in Greek.
Deborah Kelly is a Melbourne-born, Sydney-based artist. This is her artist statement about the art work:

Hey Hetero!
After three decades of gay, lesbian, bisexual and transgender activism in Australia, defence of heterosexual hegemony remains unspoken and entrenched. Heterosexuality is horizonless, unselfconscious, invisible as whiteness. While basic human rights gains have been won for non- heterosexuals, heterosexuality still confers first class citizenship in many areas of law, relationships and social status. Meanwhile, much of the queer community is depoliticised and lulled into passivity.
Implementation
Hey, Hetero! is a public art project first produced as the major visual arts event of the 2001 Sydney Gay+Lesbian Mardi Gras Festival.
The artists wanted a provocative and seductive work to appear throughout the city, in billboards, bus shelters, free postcards and in the news. Many people helped the dream come true.
Deborah Kelly conceived the project and collaborated with photographer Tina Fiveash to make the six pieces. Together, we collaborated with the many heterosexual models who appear in the pictures, whose wholehearted endorsement of the project gives it its soul.
Hey, Hetero! returns the gaze at heterosexuality: the privileged sexuality which makes gay, lesbian, bisexual and transgender movements both possible and necessary. In the form of simulated mainstream 'advertisements', the artwork invites heterosexuality into public discourse. We're surrounded, and scrutinised minutely, by state, church, our own nervous neighbours. Hey, Hetero! seeks to interrogate the great silences that support the solidity of hegemony, to manifest the invisible, to address directly those who need not speak their name.
By simulating advertising and occupying its spaces, the project seeks access to the public attention accorded to commercial messages and denied to 'Art'. Hey, Hetero! is a trojan horse, an agent provocateur, a wolf in sheep's clothing. It mimics and destabilises the conventions of advertising. This work has appeared in illuminated bus shelters, on street billboards, on free postcards, in newspapers, on radio, and in print publications and text books around the world.
Hey, Hetero! appeared at the 2001 Feast Festival in Adelaide, in 'Week without Violence' in Wellington, New Zealand in 2002, throughout Melbourne in 2002, and as broadcast TV ads with Melbourne's Channel 31. It was the headline visual arts project of Glasgay in 2006, appearing throughout the Glasgow subway system, was shown in galleries in Berlin and Nicosia, Cyprus in 2007. In 2011, 1,500 copies of the works were plastered around Claremont California by students there, and in 2015 it was invited to participate in the Thessaloniki Biennale by the Greek State Museum.
The project is taught in schools and tertiary institutions across Australia and internationally in various disciplines: anthropology, sociology, visual arts, media/ communications and cultural studies.
Hey, Hetero! won the 2001 Mardi Gras Arts Award.
[The works (from top to bottom of this page) read:
Hey, hetero*! MEMBERSHIP – Priviledges. *Accepted World Wide!
Hey, hetero! Have a baby. NO NATIONAL DEBATE
Hey, hetero! When they say family they mean you!
Hey, hetero! With your eyes closed. NO FEAR! NO DANGER! NO WORRIES!
Hey, hetero! get Married BECAUSE YOU CAN!
Hey, hetero! BASHERS TARGET – STRAIGHTS in 0.05% of sexuality-motivated attacks]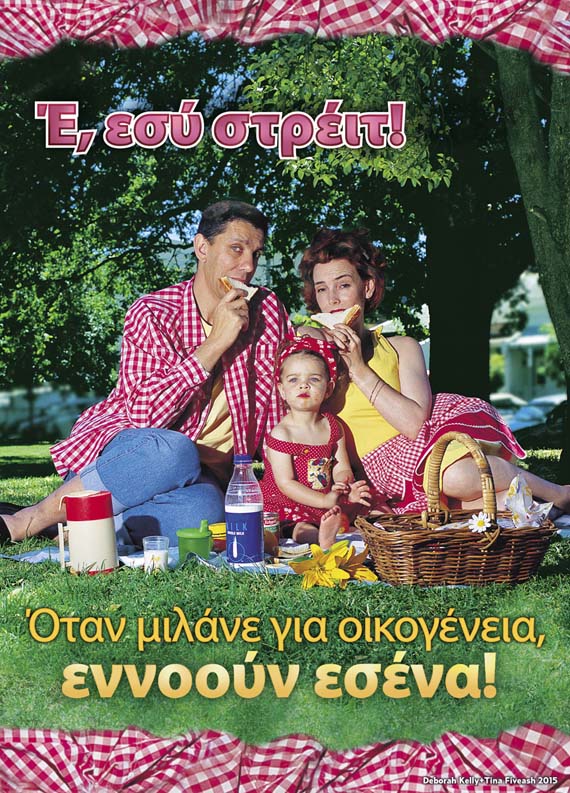 Hey, Hetero! Tina Fiveash and Deborah Kelly, 2015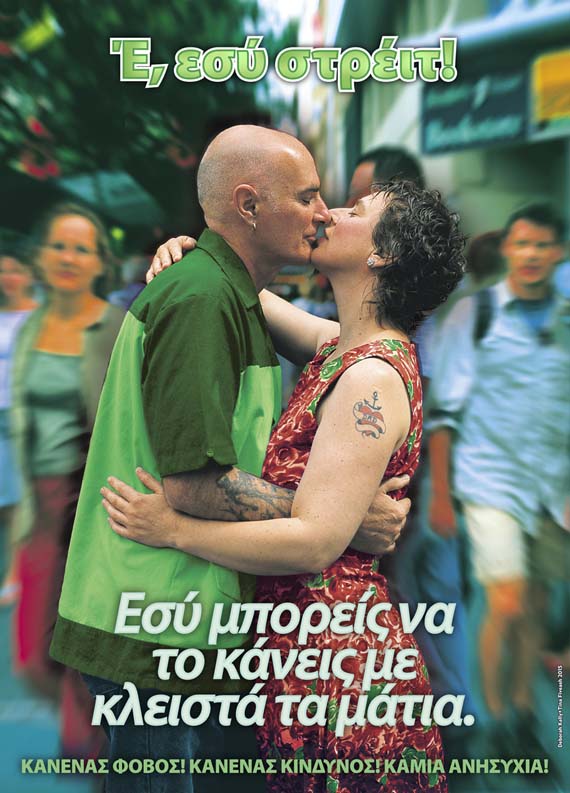 Hey, Hetero! Tina Fiveash and Deborah Kelly, 2015
About Ident-alter-ity
Ident-alter-ity, The 5th Thessaloniki Biennale of Contemporary Art, 2015. The concept of otherness, of the strange or the different is inherent within our identity. In an age that has seen a rise in neo-conservatism, racist, homophobic, lesbophobic and transphobic behaviours, attacks against women and discrimination based on race, nationality, sexual orientation and gender identity, Ident-alter-ity is a group exhibition addressing the issues of gender and self-determination. Participating artists: Lynda Benglis (US), Ursula Biemann (CH), Pauline Boudry and Renate Lorenz (CH-DE/DE), Marianne Darlen Solhaugstrand (NO), Yevgeniy Fiks (RU/US), Kostis Fokas (GR/UK), Hector de Gregorio (UK), Igor Grubic (HR), David Hockney (UK), Deborah Kelly & Tina Fiveash (AU), Majida Khattari (MA/FR), Carlos Motta (CO/US), Slava Mogutin (RU/US), Natasha Papadopoulou (GR), Antonis Protopatsis (GR), Wolfgang Tillmans (DE/UK), Boryana Rossa – Oleg Mavromatti (BG/US-RU), Milica Tomic (RS).
Curators: Theodore Markoglou, Art Historian – Curator at the State Museum of Contemporary Art and Syrago Tsiara, Art Historian – Director of the Contemporary Art Center of Thessaloniki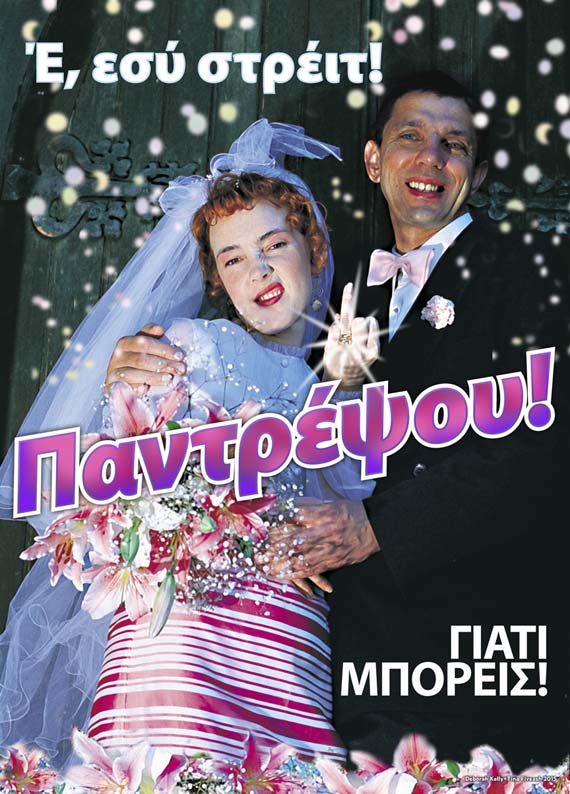 Hey, Hetero! Tina Fiveash and Deborah Kelly, 2015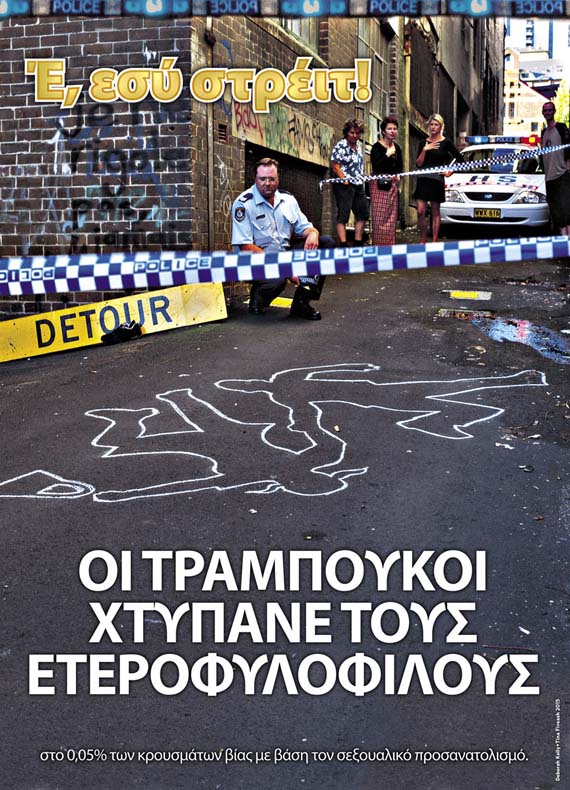 Hey, Hetero! Tina Fiveash and Deborah Kelly, 2015