Dorian Katz in Conversation With Graphic Artist Tyler Cohen
Press release via Facebook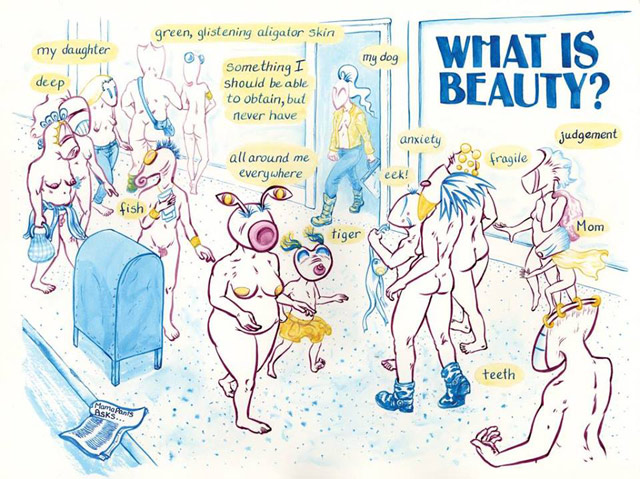 India ink on watercolor paper, 12″ x 16″. Copyright Tyler Cohen.
Tea Time with Primahood [AKA Tyler Cohen]
May 20 at 3 PM – 5 PM
Center for Sex and Culture
1349 Mission St, San Francisco, California 94103
Join us at Tea Time during the last weekend of Tyler Cohen's art exhibition. Around 4 pm, Tyler Cohen and Dorian Katz will begin an open discussion on Tyler's art and the myriad of subjects that inform her comics.
Known for exquisite line drawings that delve into the female experience, Tyler's comics examine issues on her mind including bisexual visibility, parenthood, race and intersectional feminism all with a biting critique and humor. Her newest book, Primahood: Magenta (Stacked Deck, 2016), unites two bodies of work; Mamapants is full of conversations and observations, and Primazonia allows the viewer to spy into a world of disturbing scenarios that eerily resemble the everyday.
Tyler Cohen's comics have appeared online in PEN America/PEN Illustrated and MuthaMagazine.com and in numerous books including QU33R (Northwest Press), Alphabet (Stacked Deck Press) and The Feminist Utopia Project (Feminist Press).
Center for Sex and Culture [in San Francisco] is a community center providing judgment-free education, cultural events, library, archive and gallery to audiences across the gender and sexual spectrum. We also really like tea and cookies. And biscuits… maybe.