Emerging Artist Anna-Stina Treumund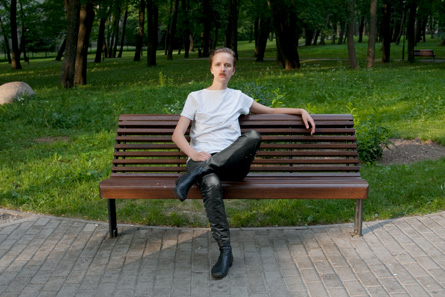 Photo by Anna-Stina Treumund 2011
Group Exhibition: Lost in Transition
Project Series: Your Periphery Is My Center
Exhibition Venue: EKKM, North Avenue 35, Tallinn, Estonia
Exhibition Date: July 22 – August 28 2011
Opening: July 22 at  18:00
Curator: Rael Artel (Pärnu)
Participating artists:  Arnis Balcus (Riga),  Alexei Gordin (Tallinn), Anna-Stina Treumund (Tallinn),  Flo Kasearu (Tallinn), Ivan Jurica (Bratislava / Vienna), Katarina Sevic & Gergely Laszlo (Budapest), Katarina Zdjelar (Belgrade / Rotterdam), Zampa di Leone, Wojtek Doroszuk (Krakow / Rouen),
Curator Rael Artel explains: "Through the Your Periphery Is My Center project series I wish to focus on the former Eastern Europe and its neighboring regions, in order to examine diverse aspects of social reality which intrigue artists as well. The project is imagined as a framework to explore, map and present the contemporary artistic positions that take a critical stance towards the social, political and cultural surroundings generated during the last two decades after the fall of the Wall. One has to admit that struggles concerning territories and identities continue to keep artists busy and productive.
Consisting of presentations of contemporary art in the form of exhibitions, screenings, publications and performances, the project's focus is on the artists, the majority of which could be identified as young or emerging artists who are operating mostly outside of the dominant institutional frameworks and commercial market structures."
Anna-Stina Treumund
One of the emerging artists is Anna-Stina Treumund, visual artist and queer woman. Anna-Stina (born in 1982) lives and works in Tallinn, Estonia. She received her MFA from the Estonian Academy of Arts in 2010. Anna-Stina uses photography and video as medium for expressing her thoughts and ideas about the visibility of lesbian women and feminism. She is one of the first artists in Estonia, who is a self-identified lesbian and has explicated the role and position of this marginal group in Estonian society through her work. In her most significant personal exhibition "Me, You and Everybody We Do Not Know" (2010) she deconstructed stereotypical images of a lesbian women and gave society some ideas about how to see the world from her viewpoint.
Related Link
Anna-Stina Treumund's webgallery