Feminine Moments' Newsletter – January 2013
Sample newsletter
Dear Reader,
One of the best ways I know to get unstuck, when one's creative ideas aren't flowing as they should, is to change media. And some years ago I felt the need to do something new with my photography. I bought a digital camera … and another one … and started taking color photos. Now I have launched a web gallery titled Work in Progress, Here I present my colour experiments and introduce you to the themes, which I am working on at the moment.
As Nature didn't call me outside with my camera today, my Sunday morning (queer) photography treat was watching a lecture by Annie Leibovitz on her photography book Pilgrimage at Youtube – see link below. I do love the Web(!), as it gives me access to great works of art and artist talks, which would never be shared by the rather limited choice of cable TV stations, which I have. I hope you'll enjoy this newsletter. Happy 2013!
Call for Submissions
GENDEROTICA 2013 queer art contaminations, an International Festival by Eyes Wild Drag in Rome June 2013. The festival calls for artworks, performances and workshops by March 15, 2013.
FIRST ITALIAN FEMME CONFERENCE, Rome, June 2013 hosted by Eyes Wild Drag calls for abstracts by February 28, 2013.
Homotopia in UK. Call for submissions for Homotopia's 10th anniversary in November 2013 are open.  Deadline May 3 2013.
Lavender Review. The theme of Issue 7 is Gender. The deadline for submissions is May 15, 2013. Submission guidelines at the LAVENDER REVIEW site.

Conferences and Queer Arts Festivals
Charming for the Revolution: A Congress for Gender Talents and Wildness. 1 – 3 February 2013, The Tanks, Tate Modern, London – featuring among others the German artist duo Pauline Boudry and Renate Lorenz from Berlin.
Midsumma Festival, Australia – since 1988 – celebrate its 25th anniversary Jan 13 – February 3 2013. Midsumma is now the world's first queer festival to have an iPad App. with the programme of the festival.
Books and Zines


Based in Seattle, WA, USA#1 must, created by Adrien Leavitt and A. Slavenhave, is a photo zine that re-frames queer visibility and experience outside of the victim paradigm often perpetuated by popular culture. Issue no. 4 was launched on January 18, 2013 at Leslie + Lohman Museum of Gay and Lesbian Art in New York. Read Velvet Park's interview with Adrien Leavitt and A. Slavenhave who say, We intend to publish a physical zine on a quarterly basis, in conjunction with a website updated regularly with new photos.
Are You My Mother? a Graphic Novel by Alison Bechdel, 2012
Artist Showcase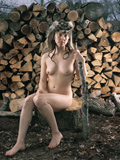 Fine Art Photographer Leah DeVun. Our Hands on Each Other – artist statement and photos – by Leah DeVun (USA).
Finnish Avant-garde Filmmaker snd multidiciplinay artist Mox. Artist statement and two videos from Mox' spoken word project Story Ambient.
Exhibitions
Camilla Storgaard – Messy existences, January 4 – 31, 2013 at the CLUB, Biebricher Str. 14, 12053 Neukölln, Berlin, Germany.
Energy of Stillness January 16 – February 2, 2013, Red Gallery, 157 St Georges Rd, Fitzroy North VIC 3068, Australia
Zanele Muholi : Mo(u)rning Jan 12 – Feb 3, 2013 at Walker Street Gallery & Arts Centre, Melbourne, Australia. Mo(u)rning is a solo exhibition from South African artist and activist Zanele Muholi, who works to recreate an understanding of black lesbian women in post-apartheid South Africa. She presents the power of love and community in the face of vicious hate crimes.
re.act.feminism #2 – a performing archive is a continually expanding, temporary and living performance archive travelling through six European countries from 2011 to 2013. re.act.feminism #2 through February 17 2013 at Fundació Antoni Tàpies, Barcelona, Spain.
Arts Resources
Flagrante Delicto by Gaye Chan, 2002 – 2006
A Conversation with Annie Leibovitz about her book Pilgrimage (Random House, 2011) and taking pictures when she was moved to take one just because she saw something which she felt drawn to. This video is  of one of her lecture. (It is 1:24:16 minutes long and for your information nothing happens the first 7 minutes.)
[illustrations above:
Charming the Revolution, press photo by Pauline Boudry and Renate Lorenz.
#1 must have, zine cover.
Up from under. Photo by Leah DeVun]
Peace, love and kisses,
Birthe Havmoeller
Independent editor of Feminine Moments
mail: havmoeller(at)femininemoments.dk