Femmes of Power – Exploding Queer Femininities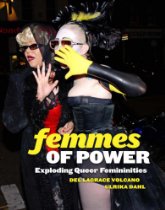 I haven't got the book "Femmes of Power – Exploding Queer Femininities" yet, but I have read a review of the book, which I want to share with you. Read the review by Jess McCabe. "Femmes of Power" is by photographer Del LaGrace Volcano and Swedish cultural anthropologist Ulrika Dahl. Published 2008-07-03.  
The synopsis of the photographic monograph "Femme of Power" reads:
"What is femme? French for woman? A feminine lesbian? A queer girl who loves to dress up? Think again! Going beyond identity politics and the pleasures of plumage, "Femmes of Power" captures a diverse range of queerly feminine subjects whose powerful and intentional redress explodes the meaning of femme for the 21st century."Femmes of Power" features both every-day heroines and many queer feminist icons, including Michelle Tea, Virginie Despentes, Amber Hollibaugh, Itziar Ziga, Lydia Lunch, Kate Bornstein and Valerie Mason-John."Femmes of Power" unsettles the objectifying "male" gaze on femininity and presents femmes as speaking subjects and high heeled theorists. (…)"
The book has now been included in Feminine Moments' Bibliography on Lesbian and Queer Art Books.