Finding Berenice Abbott: A Private Lesbian Life
Press release by Leslie-Lohman Museum of Gay and Lesbian Art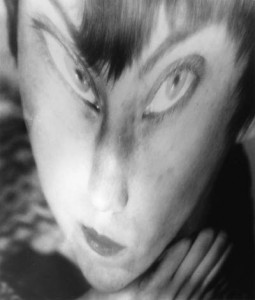 Finding Berenice Abbott: A Private Lesbian Life
[a lecture by] Julia Van Haaften
Event Date: March 16, 2017, 6:30 pm
at
Leslie-Lohman Museum of Gay and Lesbian Art, Main Gallery
26 Wooster Street, New York, NY 10012, USA
Berenice Abbott (1898 – 1991) is best known for her dynamic 1930s cityscapes, Changing New York. As a lesbian and feminist, Abbott found community within the small worlds of Greenwich Village and Montparnasse before discovering a similar freedom in Maine. She listed as an Artist in the 1920 US Census and hung around Man Ray and Djuna Barnes. As she matured in Paris and the US, the once "crazy kid" became productive, but never fashionable or accommodating. To Abbott's detriment, her prickly temperament was, in her view, irrelevant to her creativity—inalterable yet inconsequential like her flat Midwestern speech or her same-sex affinity.
Above all, she wanted to be remembered as a "self-taught risk taker." Abbott's oversize B/W prints are now ubiquitous; their very impersonality a hallmark. Yet she held that because "reality" is the subject, a photographer couldn't help "equating the objective world with his self." Her biography lies in the creative tension between this belief and its expression, and is mirrored in her long, contradictory life.
Julia Van Haaften is the author of the biography of American documentary modernist photographer, Berenice Abbott, forthcoming from W. W. Norton, early 2018. This talk is co-sponored by the Robert Giard Foundation and the Leslie-Lohman Museum of Gay and Lesbian Art.