GFEST 2011 – 2 Minutes of Creativity: Bridget Orlando
GFEST 2011 – "2 Minutes of Creativity" chat with artist Bridget Orlando. Bridget Orland is talking with Artistic director of GFEST Niranjan Kamatkar
Bridget Orlando is working on a body of work about the ways people present themselves and our assumptions as well. One of her paintings was selected for the GFEST 2011 Visual Arts Exhibition
November 7 – 19, 2011
Dreamspace Gallery, 1-3 Dufferin Street,
London, EC1Y 8NA (press buzzer to enter), UK
The GFEST Visual Arts Exhibition is annual censored queer art group exhibtion in London. Here you can see Bridget Orlando's painting The Wrestler / Oil on canvas / 61 X 46 cm.
Description: The wrestler is part of a series of masked or disguised personas, which question the more conventional view of gender and sexuality.
About The Artist
Bridget Orlando is a London based artist whose main area of work is portraiture. Originally from the home counties, she studied at West Surrey College of Art, then post graduate studies in France.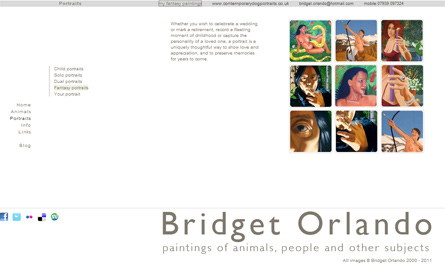 Related Link
Bridget Orlando's website