Intermedia Artist Aja Rose Bond
Artist statement by Aja Rose Bond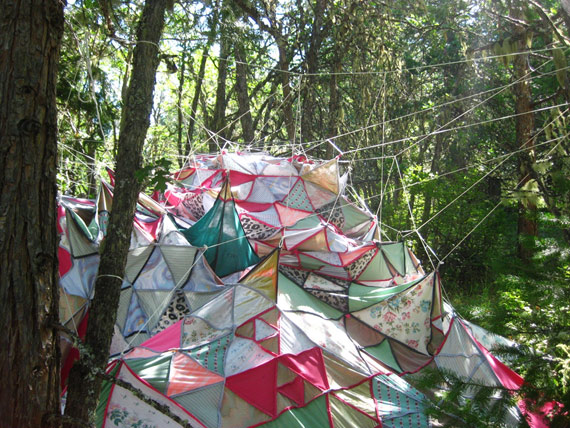 Triangle Fort by Aja Rose Bond in collaboration with Caroline Ballhorn, Alicia Cha and Heather Dawn Jones. Photo courtesy of Aja Rose Bond.
Artist Statement by Aja Rose Bond
I am an intermedia artist with background in music, craft and fashion respectively, drawing from the deep influence of D.I.Y. punk, feminisms and magick. I identify as a witch, among other things, and this part of my life has been coming more to the surface of my creative practices in the last couple years. My spirituality is deeply connected to my work, which strives to engage mystery, create beauty, inspire and deepen meaning and connection – both to each other as people and to the web of life that includes all beings and the land, the air, the water and spirit. I help organize public and private rituals in my community, and work as a kind of advocate for 'coming out of the broom closet' as we call it. There are a lot of parallels and overlap between queerness and witchiness and I am totally blessed to have many amazing queer witches in my life to practice with.
I explore the interplay of the public and the private through collaborations, collective organizing, solo-projects and a variety of mediums including sound, performance, installation, textile sculpture, drawing, collage and social practice. These mediums are increasingly merging into one another in ways that are really exciting for me. As I get more opportunities as an emerging artist, I am seeing just how immersive and multi-sensory my visions truly are. My intention is to be able to combine collaborative social practices, with performance/ritual, costume, installation and sound components into one piece rather than keeping them somewhat separate, as has necessarily been the case up till now.
My intimate relationship with certain mystical traditions – specifically Reclaiming, a Feminist tradition of witchcraft, and Radical Faerie Tradition which emerged as part of the Gay Liberation Movement – has informed my process which often includes the use of ritual, divination, symbols and geometry to align and reveal the more hidden elemental and energetic aspects of the work. As I come more into my power, publicly, I feel more at liberty to speak to what the works are truly about and what was involved in making them. Again, as a parallel to queerness, there are heaps of stigma, stereotypes and misunderstandings about witchiness that sometimes make it safer to stay in the shadows, but despite this, I'm coming out (again) and it's so amazing to see what's happening as a result… this show coming up in NY is the first I've ever been in that has magick and ritual and a holy-day celebration as a central theme. It's so wonderful and I'm really grateful to be part of it. I'm also doing a project with Gina Badger in Toronto right after this, as part of a group show called TBD at the MoCCA that also involves ritual, magick, medicine and how it can connect us to our ancestors, our complicity in settler-colonialism and deepen the process of unsettling. This intersection of art, magick, and radical politics is really where my heart is and it's so liberating to have a voice to express this and an audience that's excited to engage it!
While at once being a political statement and an economic necessity, the use of found and reclaimed materials is instrumental to my understanding of the subtle life within objects. Truly, I think of my materials more as subjects than objects, and I use my senses to engage them as fully as possible in the creative process. I am especially fascinated by reclaimed textiles, leather and fur (the latter two always rescued from thrift stores or free bins) and how they hold stories and information about their former lives. I feel a kind of empathy for them which compels me to find a new usefulness for these things which were so often created only to be discarded. I come from a line of "master-thrifters" and the ritual of digging through piles of old things brings me great joy and satisfaction.
My work is as much about service to my community (and perhaps less directly to the greater world) as it is a way to nourish my own being and heal myself. I have been trying lately to find ways to embody these two things simultaneously, rather than oscillating back and forth between extremes. By attempting to balance service and self-care within my practice as a whole, and by ritualizing both the process and the presentation, I try to create spaces where their boundaries may overlap or dissolve altogether. I am very invested in the power of creative process to transform our understanding of who we are in relation to the world. I feel that magick works in a very similar way, and I am so excited to be discovering ways for them to work together to be more powerful and effective.
There are so many desires, ideas and feelings behind my work, and yet it I come at it with an intentionally intuitive approach. Right now I am thinking so much about settler-colonialism, whiteness, who I am and how I got here. What it means to be engaging a land-based spiritual-practice on stolen land. What the mass extinction and environmental crisis of climate change and resource extraction mean in terms of what I will do with my "one wild and precious life". How to break the spell of disconnection and weave a web of wholeness that can heal us and help us survive what is to come… it's heavy in my heart and I know also that engaging with all the things that make this life so beautiful and wondrous to behold – humour, play, colour, beauty – is what I need to keep going forward. So I try to have it all.
Much of my work in the last year has been an enquiry into the nature and concept of time and an effort to expand its inherent possibilities. We can move past a simplistic representation of time as linear into one that can hold paradox, mystery and multi-dimensional realms where we may plant seeds of change that will grow and heal the past, present and future at once. The large-scale textile sculptures I will have installed at le Petit Versailles in the Lower Eastside in NY for this upcoming show are about this.
I am self-taught with the exception of some formal training in fashion arts and contemporary music. My other projects and collaborations include; The Witches* Union Hall, The STAG (Strathcona Art Gallery) Library, Craft Pride Procession, Her Jazz Noise Collective, WOEVAN (Witches of East Van), Seamrippers Craft Collective, Diadem (w/partner Gabriel Saloman), In Flux (w/members of Shearing Pinx), DJ Tapes and the Women's Studies 10 part performance series co-produced w/VIVO Media Arts Center. I live in Vancouver [Canada] on unceded Coast Salish Territories. See more work at AJAROSEBOND.com
Upcoming exhibitions:
Turning Into Night, at le Petit Versailles, 346 East Houston St. @ Ave C, NY – Performances 8pm Fri, Sept 19, Artist talk/potluck 6pm Sat, Sept 20, Films 8pm Sat, Sept 20. [Curated by Yvette Choy, Troy La Biche Davis and Coral Short]
Brew Pub #3 and Brewtality of Fact Beer Club, with Gina Badger, Cheyenne Turions, Eric Emery and the STAG Library (artists Aja Rose Bond and Gabriel Saloman) TBD at the MoCCA, Toronto, opens Friday September 5, 2014.

Zero/One by Aja Rose Bond. Photo courtesy of Aja Rose Bond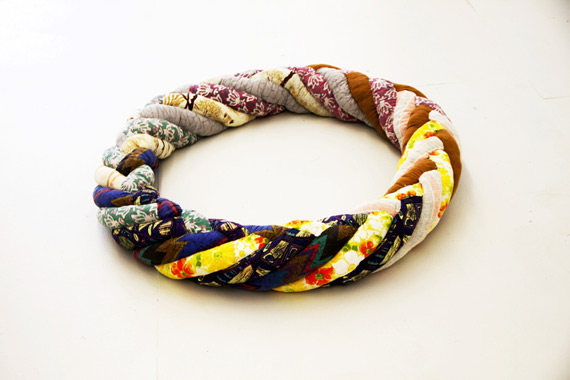 Unity Braid by Aja Rose Bond. Photo by Kenneth Yuen.