It's All Poetry
Press release from Leslie-Loman Museum of Art newsletter, July 2021.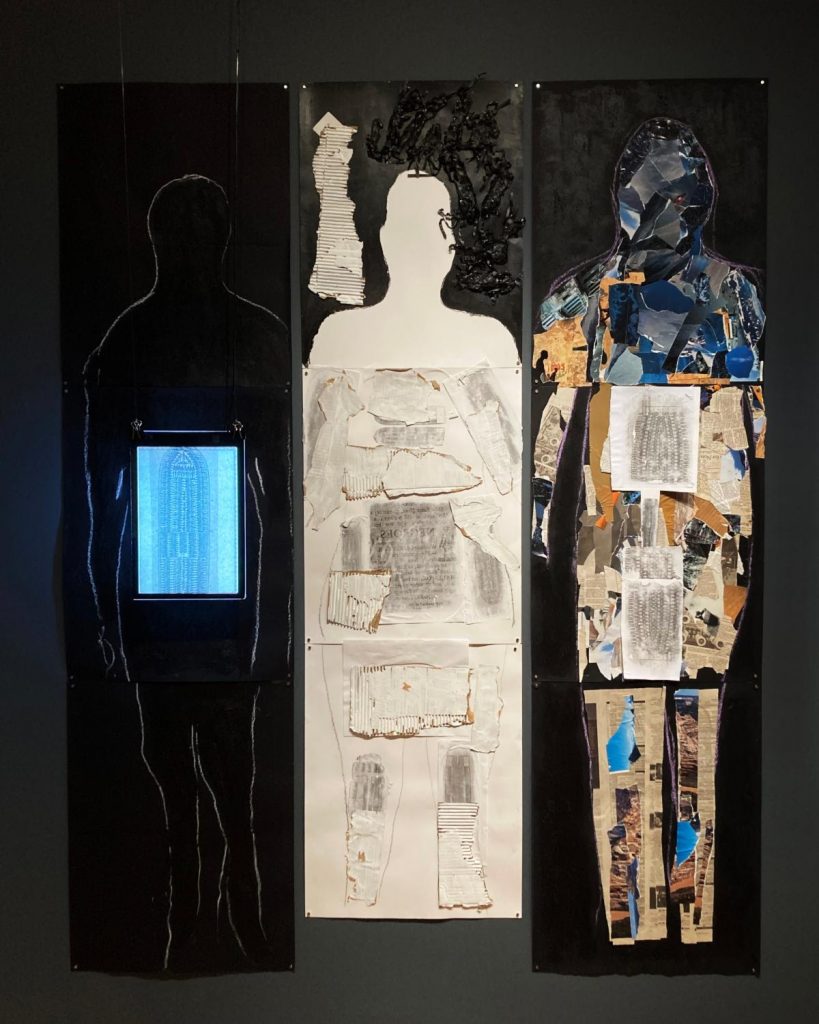 Image: Pamela Sneed, Untitled, 2019, Mixed media collage. 75 x 62 in. Courtesy of the artist.
Leslie Lohman Museum of Art presents Pamela Sneed at the opening of OMNISCIENT
It's All Poetry
by Pamela Sneed
To many people I've been known as a poet.
Many marvel that I am working now in visual art as well. They ask, Is there anything you can't do?
They call me fearless. Some worry I'll leave poetry behind (not a chance) or expect immediately I'll be a text based visual artist which I resist. I'm not opposed but I like to defy expectations. I use text only when I want, not because I'm supposed to or should.
Sometimes I refer to my visual work in a spiritual sense, I call it my miracle. My grandfather was a baptist preacher. Part of that survived in me, not the religious dogma but the part when spirit moved through people they'd do some sort of ecstatic dance or speak out in another language. There is tons of movement in my watercolors and collage, so perhaps it's my own ecstatic dance and life spirit informing my expression.
I'm also still trying things at an age where many artists stop. I'm inspired by people like the wonderful aboriginal artist Emily Kame Kngwarreye who started painting at age 80. Part of what attracts me to painting and collage is the absolute freedom I feel, the power and discovery of creation and transformation.
Looking back, I've always been an interdisciplinary artist. After I completed my MFA in new media art and performance about ten years ago, I started to have the desire to make things with my hands. I started art therapy 6 years ago and have been making and studying ever since. All art to me in one form or another is an act of listening. Poetry trained me to follow my instincts which led me to visual art. I'm glad to hear more colleges and the art world speaking of the interdisciplinary, which is art in its truest form.
When an artist reaches their peak in any form, it's called poetry.
To me, visual art, dance, literature, etc. … is all poetry.
Pamela Sneed is a poet, performer, visual artist and author of Funeral Diva (published by F). Sneed's artwork, Untilted (2019), is currently on view as part of OMNISCIENT: Queer Documentation in an Image Culture, curated by Avram Finkelstein, through January 2, 2022.
TONIGHT, Friday, July 16, 7-9pm, join us for the opening reception celebrating OMNISCIENT. Capacity is limited, please RSVP HERE.
[It is last chance to see Sneed's solo exhibition B-LEAFS which is currently on view at the Motherbox, June 20 – July 18, 2021, in New York.]