Jess Dobkin's Wetrospective
Press release courtesy of curator Jenifer Papararo and artist Jess Dobkin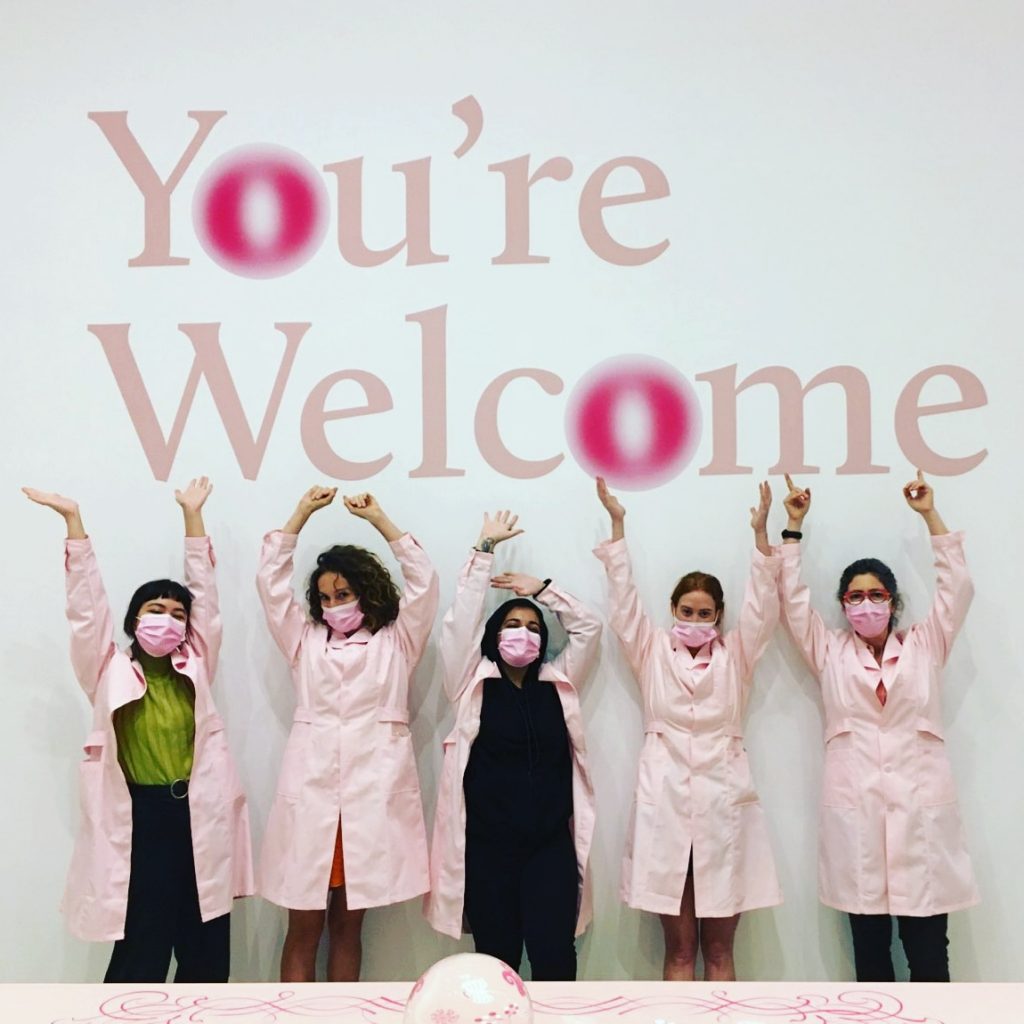 Photo: Jess Dobkin's Wetrospective installation view featuring 'the archivists'. Photo by Moe Angelos
Jess Dobkin's Wetrospective
September 2 – September 26, 2021
Opening Reception: Friday, September 10th, 6 – 9 pm [at capacity]
Art Gallery of York University (AGYU)
M09 Accolade East Building, Mezzanine
4700 Keele Street, Toronto, Ontario M3J 1P3
The Art Gallery of York University is thrilled to re-open its doors with the first-ever retrospective exhibition of Toronto's performance art matriarch Jess Dobkin, curated by Emelie Chhangur.
Internationally acclaimed artist Jess Dobkin, who splashed Toronto with projects including The Lactation Station Breast Milk Bar (2006–2016), The Artist-Run Newsstand at Chester Subway Station (2015–2016), and The Artists' Soup Kitchen (2012), welcomes the public to the re-opening of the AGYU. With her Wetrospective, Dobkin invites us into 25 years of her playful and provocative practice with animated "litrine vitrines" (portable toilets) and a custom-designed augmented reality app. The exhibition is curated by award-winning, nationally celebrated curator Emelie Chhangur, Director and Curator of the Agnes Etherington Art Centre in Kingston, Ontario.
Chhangur writes, "Dobkin upcycles her own archive of past performances in ways that constitute her concept of 'bendy-time.' This exhibition demands of archives what we expect from performance: the live encounter of experience in a ritual of transformation."
The Collective Effervescence Opening Party will feature an outdoor celebration with DJ Cozmic Cat, Nik Red, Sasha Van Bon Bon, and John Caffery spinning archives of Toronto's favourite parties plus Jewish Performance Food Truck with Guillermina Buzio and Bar Bacan.
For the duration of the Wetrospective, 'Archivists' will be in attendance and on AGYU's Instagram @a_g_y_u. Archivists include: Jess Dobkin, Shalon Webber-Heffernan, Nasim Asgari, Moe Angelos, Thalia Godbout, and Ella Tetrault.
A signed and numbered artist multiple will be given to the first 100 visitors to the gallery (starting September 5).
Ancillary Events and Activations:
Jess Dobkin's Wetrospective includes a constellation of talks, tours and engagements featuring seminal cultural critic Ann Cvetkovich; artist and scholar Jehan L. Roberson; artist and archivist Joyce LeeAnn; and performance scholar Laura Levin.
Thursday, September 9 • 3pm @ AGYU
You're Welcome Wetro Tour with Emelie Chhangur and Jess Dobkin
Friday, September 10 • 7-10pm @ AGYU and Outdoors on York University's Commons
Collective Effervescence Wetrospective Opening Party
Saturday, September 18 • 3pm @ AGYU (and livestream)
Portals, Potions and Archives with Jehan Roberson
Monday, September 20 • 3pm @ AGYU
The Live Encounter Performative Gallery Tour with Laura Levin
Tuesday, September 21 • 7pm: The Commons @ 401 Richmond Street, Toronto
Archival Alchemy® with Joyce LeeAnn (in collaboration with FADO Performance Art Centre)
Thursday, September 23 • 3-4pm (livestream)
Hemispheric Encounters with Performance Art Archivists
Friday, September 24 • 3pm @ AGYU (and livestream)
All the Feels with Ann Cvetkovich
Book your free visit to the gallery or free ticket to any of the upcoming events at: https://agyu.as.me/
Learn more about Jess Dobkin's Wetrospective and future events at: https://agyu.art/project/wetrospective/
About the Artist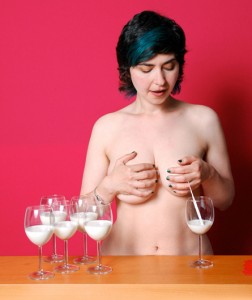 Jess Dobkin has been working as an artist, curator, community activist, and teacher for more than 25 years. Creating and producing intimate solo theatre performances, large-scale public happenings, socially engaged interventions, and performance art workshops and lectures. Her film and video work are distributed by Vtape, Toronto, and her performance work is held in performance art archives internationally.
[Archive photo: The Lactation Station Breast Milk Bar by Jess Dobkin.]
---
Related Links
Read more posts about Jess Dobkin's art projects – Tag: Jess Dobkin