Jessica Posner – Highly Functional
Press release by Leslie-Lohman Museum of Gay and Lesbian Art
Highly Functional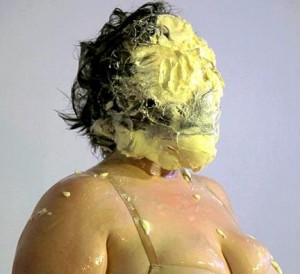 Jessica Posner at Leslie-Lohman Museum of Gay and Lesbian Art
Opening reception: Friday, June 10, 6-8pm
Exhibition: June 11 & 12, 12-6pm
Prince St. Project Space
127-B Prince St., NYC, 10012
Feminist artist Jessica Posner presents objects, images, and performances of femme, fat, fragmented performers shaped by lesbian feelings, feminist necessity, contingent realities, and cultural violence.
Posner's assemblage sculptures of girdles, women's shape wear, compression garments, medical accessories, broom handles, plants, and other objects become actresses in a feminist interpretation of the Pygmalion myth. As a feminist lesbian sculptor, Posner shapes garments intended to sculpt the bodies of women into ghosts and mirrors, their hollow forms holding space for impossible bodies. In the Up to and Including Her and Spell for Moving Melancholia videos, Posner's body becomes a sculpture with agency. In her Butter Body Politic works, Posner uses butter as a metaphor and proposition for a slippery, feminist, and spiritual body politic.
Image: Jessica Posner, Butter Body Politic, 2015, Video Still of Performance Documentation, shot by Maricruz Alarcon.
Related Links
Video: Die Gute Butter/ Die Politik desButter Körpers (The Good Butter/ Politic of the Butter Bodies) bu Jessica Posner
Jessica Posner's videostream at Vimeo