Killjoy's Kastle: A Lesbian Feminist Haunted House
Press release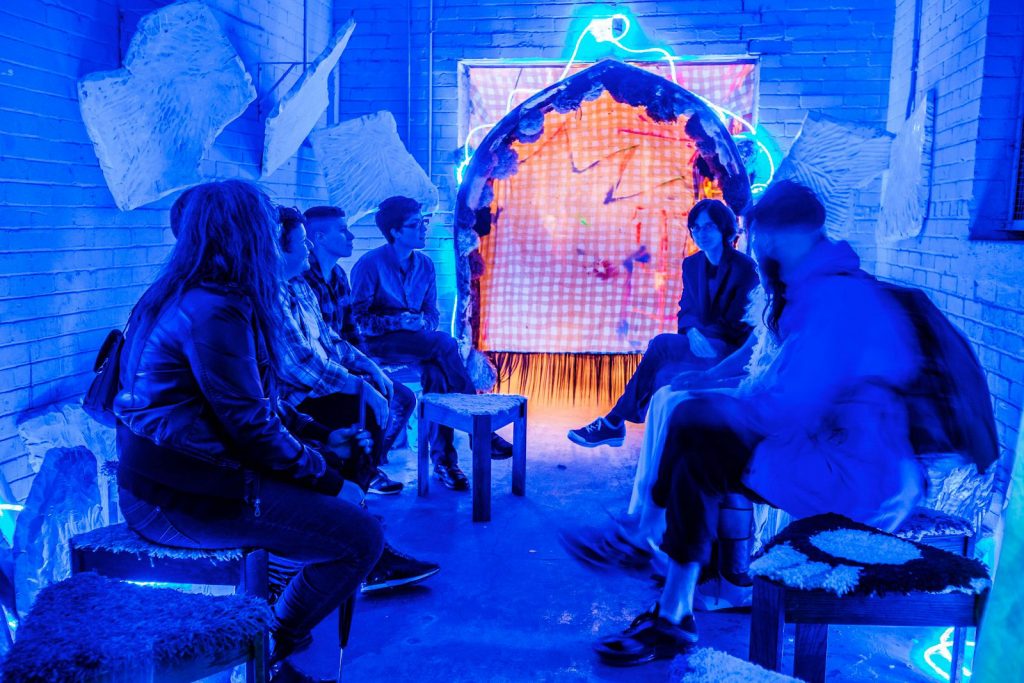 Killjoy's Kastle: A Lesbian Feminist Haunted House
at ICEBOX PROJECT SPACE, Philadelphia, US
October 16⁠-27, 2019
All events are free and open to the public
Organized by Icebox Project Space, this Halloween season artists Deirdre Logue and Allyson Mitchell and a coven of performers from Philadelphia, across the US, and Canada reclaim the hell house with their sex positive, trans affirming, queer-lesbian-feminist, fear-fighting celebration. In Killjoy's Kastle , characters such as polyamorous vampiric grannies, paranormal consciousness raisers and demented gender and women's studies professors will delight, challenge and tit-illate you. This immersive visual art and performance installation includes video projection, soundscapes and hundreds of handmade craft-based objects like carved gravestones, a giant bearded clam, and crumbling pillars of society.
Killjoy's Kastle activates a litany of current and historical stereotypes using an intersectional mirror to reflect and shatter the ways in which women, trans and gender non-conforming individuals are made into monsters by mainstream society. This haunted house acts as an archive and think tank to playfully mourn and exorcise feminist histories, demons, and ghosts.
Killjoy's Kastle is an inclusive and trans-affirming project. We embrace the identities and histories of all who enter our horrible haunted home.
Don't miss an opportunity to feel the feminist chill of delight run down your spine in Killjoy's Kastle, a complex journey that will amaze, thrill, disgust. We are both hilarious and dead serious.
Performance Dates
October 16, 17, 18, 19* // 6-10 PM
October 20* // 1-5 PM
October 23-26 // 6-10 PM
October 27 // 1-5 PM (low vision and low sensory tours available from 1-2 PM)
*ASL available (October 19, 6-8 PM; October 20, 1-3 PM)
Special Events
'Inside Killjoy's Kastle' Book Launch
October 19, 2-4 PM
Come celebrate with us the launch of Inside Killjoy's Kastle, which considers the role of lesbian feminist histories and direct-action aesthetics in queer communities today as they produce new ways of knowing the past. The volume features contributions by Sara Ahmed, Ginger Brooks Takahashi, David Evans Frantz, Nazmia Jamal, Helena Reckitt, and more.
Refreshments provided! Free to attend; please RSVP at link above.
This event is made possible thanks to support from Tyler School of Art's Fibers and Material Studies program and the University of Pennsylvania's Department of English.
Queer Crip Death Cafe*
October 20, 7-9 PM * ASL available
This is a salon-style conversation about death with others who you may or may not know, hosted in the Killjoy Kastle. We will crip and queer the ways disability and death are understood and talked about.
Refreshments provided! Free to attend; please RSVP at link above.
Children and Youth Tour (Ages 6 to 12), with Parents and Guardians
October 28, 4:30-5:30 PM
Facilitated by a local curator and educator, this tour is designed to allow younger audience members to access some of the exhibition's contents. More details to come.
All events take place at Icebox Project Space. The space is wheelchair accessible.
Visit us at: killjoyskastle.com, @killjoys_kastle_philly
For any questions or media inquiries, please contact: killjoyskastlephilly@gmail.com