Lesbian history and identity: Zanele Muholi & Sofia Hultin
Details from the websites of Oslo Pride, Kunstplas [10] and Kulturhistorisk Museum
Queer Feminist Art Events at Oslo Pride
Two acclaimed artists, Zanele Muholi and Sofia Hultin discuss their art projects during Oslo Pride, which highlight lesbian history and identity.
Lecture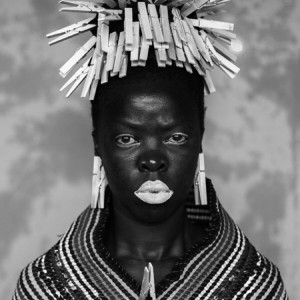 Lesbian history and identity: Zanele Muholi & Sofia Hultin
Oslo Pride
June 18, 2016 at 14:00 – 15:30
Pride House – Eldorado Bokhandel, 1st floor
Torgget 9, Oslo, Norway
Free entrance
Sofia Hultin's I'm Every Lesbian – Oslo, is a walking tour of the city, based on interviews with local LGBTQ residents as part of the off-site curatorial project Munchmuseet on the Move.
Photographer and visual activist Zanele Muholi presents the exhibition Mina/Meg – A Feminist, Artist and Activist Queer Exhibition , which opens at Historical Museum (just after the talk) curated by Kunstplass [10] and Inkanyiso (South Africa).
Participants: Artists Zanele Muholi and Sofia Hultin chaired by Natalie Hope O'Donnell (curator, Munchmuseet on the Move) and Vibeke Hermanrud (Kunstplass [10]). This event is organised by Munchmuseet og Kunstplass [10].
[Illustration above: 'Bester I' (Mayotte archipelago, 2015) Foto/ © Zanele Muholi/Yancey Richardson Gallery/Stevenson Gallery]
Mina/Meg – A Feminist, Artist and Activist Queer Exhibition
'MINA / MEG – En feministisk, kunstnerisk og aktivistisk QUEER UTSTILLING' by Zanele Muholi and Lindeka Qampi, June 18 – July 31, 2016 at Kulturhistorisk Museum, 3rd floor, Oslo, Norway.
The exhibition opens on June 18, 2016 at 17:00.
Seminar
'Prologue 1: Art Activism – White Cube vs Public Space'
Time: Wednesday June 22, 2016 from 15:00 – 19:00
Venue: Historisk Museum (Frederiks gate 2, Oslo) and KORO (Kristian Augusts gate 23, Oslo)
The seminar explores different aspects of art activism from a gender, queer, feminist and participatory perspective. What is the difference between presenting art with a political perspective in an art space, versus presenting it in a public space? How does the choice of exhibition venue affect the impact or force of political messages?
Contributors and organisations:
Professor Mikkel Bolt, University of Copenhagen
Artist Zanele Muholi, South Africa
Performance artist Kate Pendry, Norway / UK
Theater director Pia Maria Roll, Oslo
Artist, writer and activist Marius von der Fehr, Norway / Spain
Ted Kerr, writer and activist, NY
Juan Puntes, curator and director of WhiteBox, NY
Organised by First Supper Symposium in collaboration with Kunstplass [10] and Oslo Photo Art School.
Gem
Gem
Gem
Gem