Liss LaFleur – Green Pastures (2017)
Video (7:04): artist talk. American performance and media artist Liss LaFleur talks about the queer feminist works in her solo exhibition Green Pastures, March 11, 2017 – April 20, 2017, at Women & Their Work Gallery, Austin, Texas, USA.
'GREENER PASTURES combines kitsch, objects of consumerism, and queerness to position performance and media artist, Liss LaFleur, as a cowgirl on a new frontier. Included in this exhibition are five new performances captured in photography and video, along with leather, aluminum, glass and neon sculptures. LaFleur's work often originates with the artist creating extensions of the body as props for performances to exploit how history, language, and expectations work to etch identity into (or out of) one's existence. For GREENER PASTURES, LaFleur confronts the biological, historical, and political ideologies of the cowgirl to outline a new conceptual territory surrounding sensuality, the feminist body, and the South.' – Women & Their Work Gallery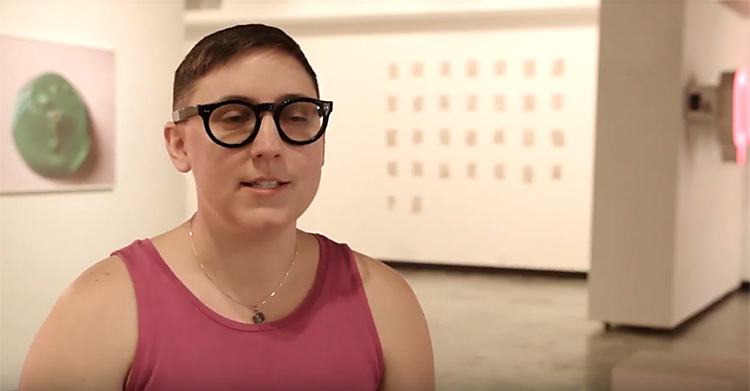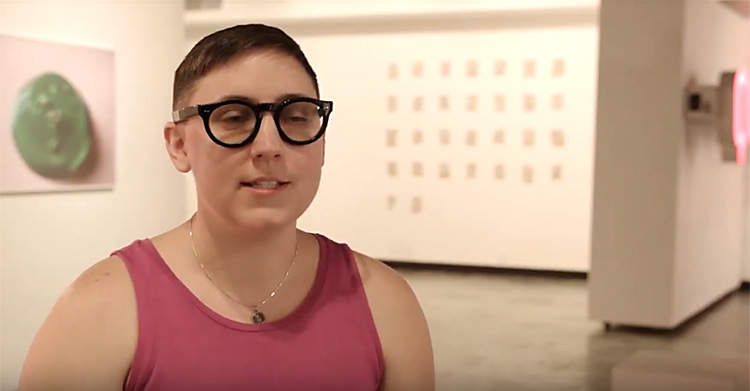 Liss LaFleur. Still from the video Liss LaFleur – Green Pastures.
[The copyright of the video above remains with the original holder and it is used here for the purpose of education, comparison and criticism only.]
Related Link
See also: Conceptual Meeting: Liss LaFleur (2017)