Lover Other by Barbara Hammer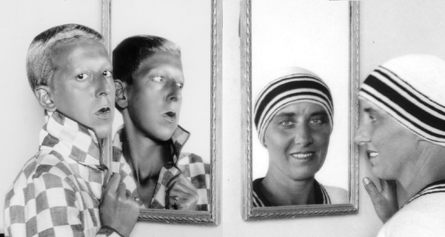 Still from the short film Lover Other by Barbara Hammer
In September 2011 Barbara Hammer's new film Lover Other will be screened at the 11th International Eressos Women's Festival, Skala Eressos Lesvos Island, Greece.
Lover Other
Barbara Hammer's collage of photographs, documents, interviews, lyrical passages and dramatised scenes recalls the lives of two surrealist artists and lesbian Resistance fighters whose work and whose fate has largely been forgotten: Claude Cahun (whose real name was Lucie Schwob, 1894–1954) and her girlfriend and lover Marcel Moore (Suzanne Malherbe, 1892–1972).
Claude Cahun and Marcel Moore were step-sisters. They fell in love around 1910 and were to spend their whole lives together; they are regarded as the first lesbian couple to live and work together as artists. Cahun's self-portraits wearing an array of different masks and costumes were to make her famous, while Marcel Moore began to gain a reputation as an illustrator. In 1937 they moved to Jersey.
When the Germans occupied Jersey in 1940, the two girlfriends embarked upon a campaign of artistic resistance, putting up posters, writing manifestos and pamphlets with which they hoped to incite the occupying forces to mutiny. In 1944, both women were arrested by the Gestapo and sentenced to death; the majority of their artistic output was destroyed. They were released from imprisonment after the island was liberated in May, 1945. Claude Cahun was never to recover from the experience.
About Barbara Hammer
Barbara Hammer (American, b. 1939) is renowned for creating the earliest and most extensive body of avant-garde films on lesbian life and sexuality. She has made over eighty films and video works over the past forty years. Barbara Hammer won two Teddy Award in February 2011, the prizes in the category for best short film, one for her own Maya Deren's Sink, which "explores Deren's concepts of space, time and form through visits and projections filmed in her LA and NY homes" and the other for Generations, which Hammer shares with co-director Gina Carducci. Barbara Hammer's films has been screened by a number of big international art museums and she is presented in MoMA's book 'Modern Women: Women Artists at The Museum of Modern Art'.  Barbara published her first book titled HAMMER!: Making Movies Out of Sex and Life in 2010.
Related Link
Barbara Hammer's website
Barbara Hammer's video stream