Magic Mirror – Works by Sarah Pucill and Claude Cahun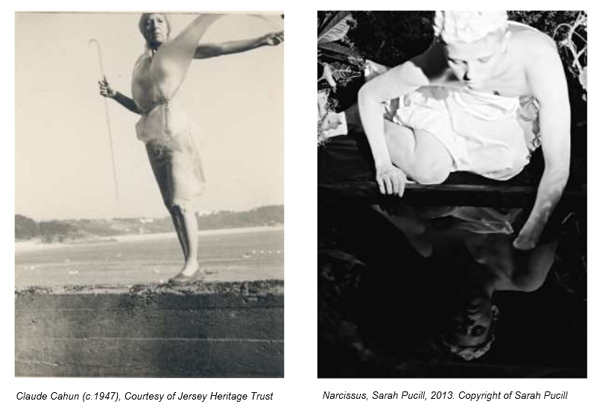 Magic Mirror: Exhibition of works by Claude Cahun and Sarah Pucill
Date: Friday, April 17, 2015 to Sunday, June 14, 2015
Opening Hours: Tuesday – Sunday 10am-5pm
Address: Nunnery Gallery, 181 Bow Road, London E3 2SJ, UK
While I was visiting London art writer and editor Anna McNay invited me to join her and  we went to the opening of Magic Mirror, where we met artist Sarah Pucill. Magic Mirror consists of with vintage photos by Claude Cahun from The Jersy Heritage Trust Collection and filmmaker Sarah Pucill's film Magic Mirror and her photographic works in which she acts, re-enacts and responds to the queer imagery of Claude Cahun's works. I expecially loved Sarah Pucills cut out stop motion animations which started each 'chapter' of her film.
About The Exhibition – Excerpt From The Press release:
'Nunnery Gallery presents Magic Mirror – a major exhibition of work by French Surrealist artist Claude Cahun and contemporary British artist filmmaker Sarah Pucill. Curated by Karen Le Roy Harris the exhibition runs from 17 April – 14 June 2015 and is part of the Nunnery Gallery's 2015 In Dialogue season, a year-long exploration of partnerships, artistic inspirations and deeply involved relationships between the artist and the muse. Photographs by both artists will be shown in London, many for the first time.
Sharing an engagement with Surrealism, the layering of Pucill and Cahun's work embraces the uncanny in relation to the inanimate. Their work explores the idea of a multiple 'self' and of looking, as both artists assert a queer gaze between mirror, camera and across two centuries.
Pucill's film Magic Mirror combines a re-staging of Cahun's photographs and visualisation of written text from her book Aveux non avenus (Disavowals), transforming Cahun's work from still to moving image, whilst exploring the relationship between word, photography and sound in film.
Called 'one of the most curious spirits of our time' by André Breton, the exhibition will offer a unique perspective on the work of Cahun, who used subversive avant-garde art practice as a form of resistance in Nazi occupied Jersey during WW2.
Cahun (born Lucy Schwob) continually challenged social conformities. Known for her writings she published articles in journals and in 1929 translated Havelock Ellis' theories on the third gender, which forms part of the gender neutral position Cahun took. 'Masculine? Feminine? But it depends on the situation. Neuter is the only gender that always suits me' (Claude Cahun).'
About Sarah Pucill
Sarah Pucill has been making experimental 16mm films since completing her MA at Slade in 1990. Since then her publicly funded films have been screened widely and won awards at major international film festivals as well as being staged in museums and galleries. Her retrospective screenings have included the Tate Britain, BFI Southbank, Ecole des Beaux Arts, Anthology Film Archives (NY), the Millenium, NY and LA FilmForum.
Her feature length film Magic Mirror premiered at Tate Modern in 2013 and has toured internationally with the LUX who published their second DVD of Pucill's work Magic Mirror in 2014, which followed a compliation of her short films 'Selected Films 1990-2010'. She has received Arts Council funding for a second feature-length film that will embrace Cahun's writing and images in colour. She lives and works in London and is a Reader at University of Westminster.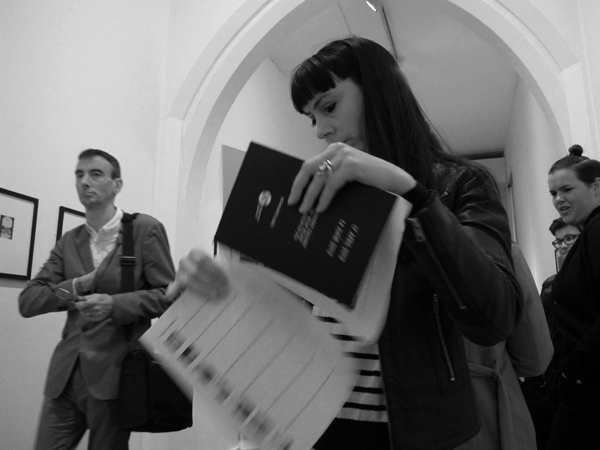 Anna McNay at the exhibition with the catalogue and list of works, accompanying Magic Mirror.