Zanele Muholi at The Photographers Gallery in London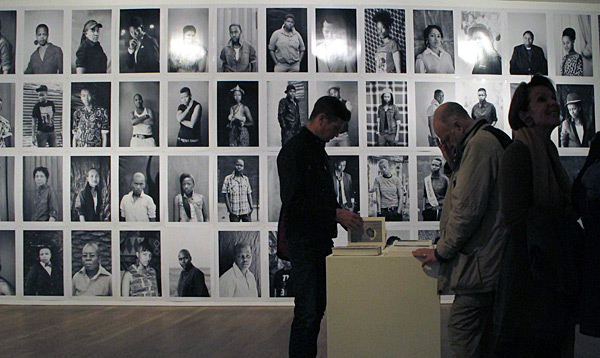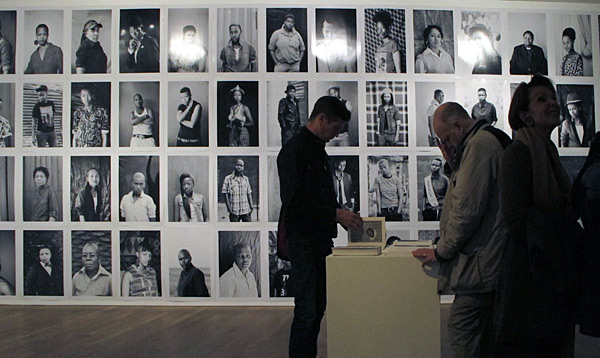 Exhibition view; snapshot by Feminine Moments
Zanele Muholi at The Photographers Gallery in London
The Photographers' Gallery showcase of Muholi's work is part of a broader exhibition presenting the works of the four shortlistees of the prestigious Deutsche Borse Photography Prize.
Deutsche Börse Photography Prize 2015
17 April until 7 June at The Photographers' Gallery, London, UK.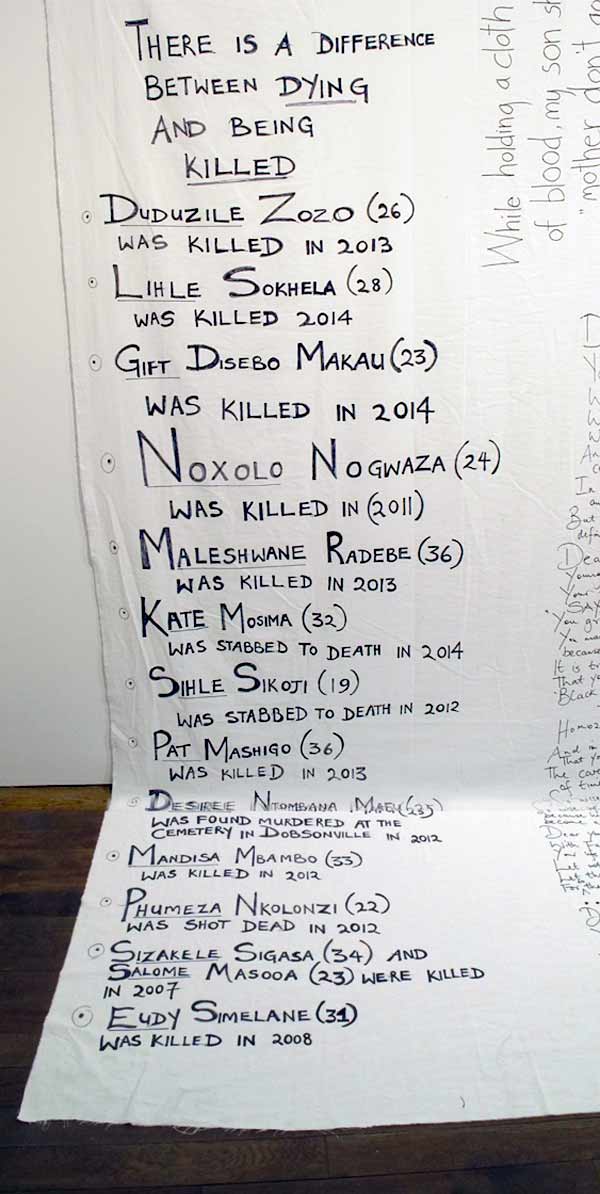 There is a difference between being dying and being killed… Detail of an installation by Zanele Muholi, Photographers' Gallery, London 2015; snapshot by Feminine Moments.
Zanele Muholi and Inkanyiso
Zanele Muholi is a visual activist documenting the lesbian and queer communities in the South African townships. She makes photos of the individual queer women, their intimate and sensual moments of their deviant love and the funerals of the young women who died as victims of hate crimes (see the above list).
In a video Zanele explains about her work as an visual activist: 'any person who is interested in learning is welcome to learn how to take photographs. I provide cameras as long as the person will be able to document what then will become a contributions towards Inkanyiso which is the organization that I formed. One cannot do these major projects alone,which is why I invited people to come on board and work with me. And it means that it is not lonely anymore. – I started this project called Inkanyiso to ensure that people wo are featuring in my photographs get a platform to share their own lives and work.'
BBC Arts about Zanele Muholi's new book:
"Zanele Muholi is being recognised for Faces and Phases 2006-2014. Published in book form by Steidl, it's an epic and beautiful project comprising portraits of more than 200 black lesbian women and trans men. The black and white images have an eternal gravity, serious and dignified – the absolute opposite of sensational – with the sitters usually at a three quarter angle, yet looking directly into the camera, expressions unsmiling and level." – BBC Arts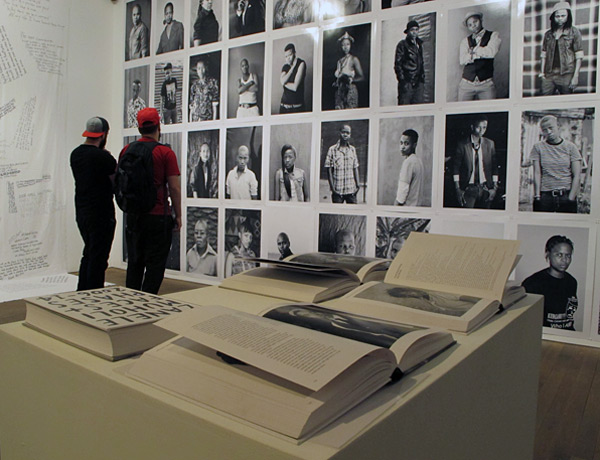 Exhibtion view, Zanele Muholi's new book Faces and Phases 2006-2014 in the foreground of the photo,The Photographers' Gallery, April 2015; snapshot by Feminine Moments
Related Link
Pride and prejudice: How Zanele Muholi documents South Africa's LGBTI community – an article by BBC Arts, April 2015
Brooklyn Museum Presents Photographer Zanele Muholi's Isibonelo/Evidence – an article by By T'kay/DapperQ, April 2015