María DeGuzmán Talks About The Transport of Minikins, or Towards a Queer Phenomenology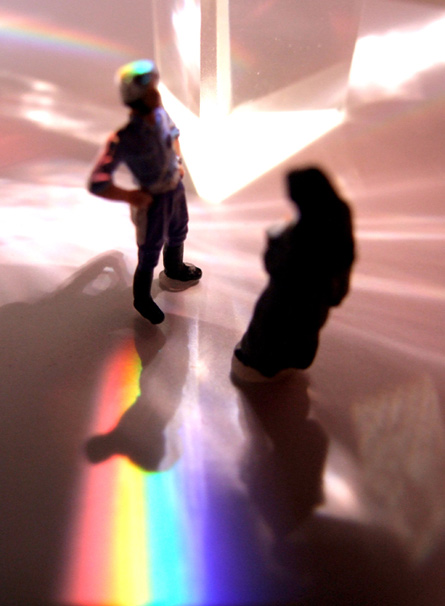 'The Conversion of the Guard'  © 2009 by María DeGuzmán, Camera Query. All Rights Reserved
Over the course of this academic year fall 2008 and spring 2009, María DeGuzmán, associate professor of English & Comparative Literature, Director of Latina/o Studies, and conceptual photographer gave several evolving versions of her presentation "The Transport of Minikins, or Towards a Queer Phenomenology" about her recent photography work with minikins.
"The Transport of Minikins" reads: If you scrutinize the real closely enough it becomes "queer". In her talks DeGuzmán explores her photographs of minikins (tiny little mannequins or figurines), and the ways in which the taking and the contemplation of minikin photographs encourages the expansion of perception in and towards a queer phenomenology.
Her first talk was delivered October 21, 2008 at UNC – Chapel Hill and was sponsored by the LGBTQ Center on campus. The second talk took place at the 16th Annual Lavender Languages & Linguistics Conference, February 14, 2009, American University, Washington, DC. USA. DeGuzmán's talks, accompanied by a continuous display of photographic images, were followed by conversation with the observers in attendance.
María DeGuzmán, Camera Query, has also had two of her art works – "Abe's Beauty" and "The Dance of Labor & Management" – in the Bailout Biennial Show (curated by Elin o'Hara Slavick and Jeffrey Waites). The show is on display at Golden Belt Arts, Durham, NC, January 15 – March 15, 2009.
Related Link
María DeGuzmán's website: www.cameraquery.com