Marilyn Minter – Sex, Glamour, Dirty Water & Skateboards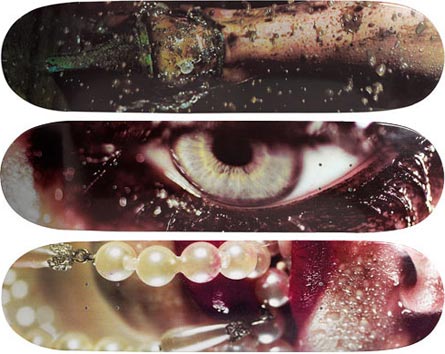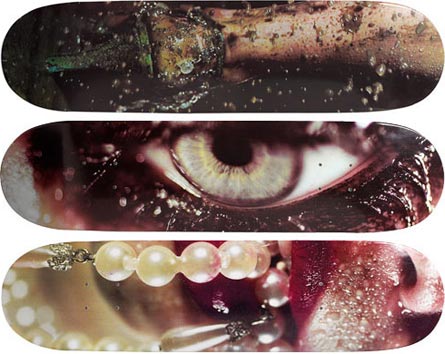 Skateboard decks by Marilyn Minter, sold by Supreme in New York, Los Angeles and Japan
Supreme, a shop for the rebellious young New York skaters, has for more than a decade worked with some of Americas most groundbreaking designers and artists, photographers and musicians. Last year they released a limited edition skateboard decks with erotic photos by Marilyn Minter. Now I suppose that the skateboards are collectors' items…
American Artist Marilyn Minter was born in 1948 in Louisiana and raised in Florida. She has been based in New York since the end of the 1970'ies. She is famous for her explicit paintings of sex/pornography and in her recent photographic work she has focused on close-up of glamour-laden images of red lips, eyes, fingers and toes. Her works of art for the skateboard decks show equal amounts of sex, glamour, fashion jewellery and dirty water. And if your wonder – yes, she used to be a skater.
Marily distributes her images in many different ways. In spring 2008 Gap Inc. and the Withney Museum of American Art introduced an Artist Editions T-Shirts, a limited edition collection of t-shirts designed by 13 of today's most influential contemporary artists, including a T-shirt designed by Marilyn Minter.
Marilyn Minter has also published her first monograph "Marily Minter" (in 2007 by Gregory R. Miller & Co. – ISBN-10: 097436486X, ISBN-13: 978-0974364865). The publishers write about the book:
"This retrospective publication features work from every period of Minter's career spanning nearly forty years. Minter is considered one of today's most important artists. Her perennially expanding reputation was widely established during the 1980s, when her work engaged formal aspects of painting as well as subject matter that remain central to her practice today. This comprehensive book reproduces in full color nearly every painting Minter has made along with a wide selection of her painterly photographs of the last several years."
– Happy shopping, reading and skating!
Related Link
See photos from Marilyn Minter's studio by Emily Davidow