Nest by Coral Short
Artist statement by Coral Short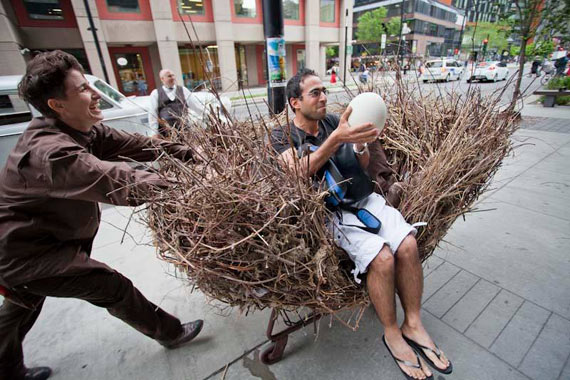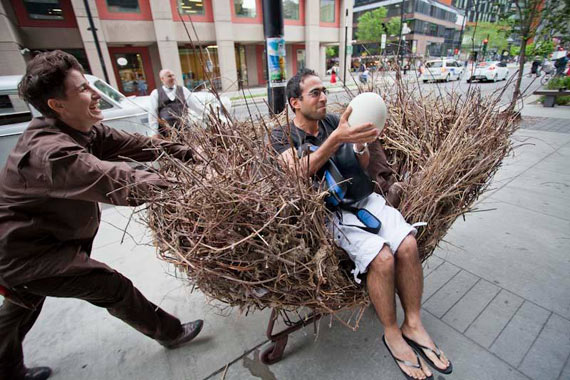 Nest by Coral Short. Photos courtesy of the artist.
Description:
Nest is an interactive sculpture that is about caring for our community's cultural workers and activists. I encouraged the audience at The Hemispheric Institute Encuentros to unwind by finding my large, human-sized nest on wheels during the opening night of the festival. I pushed the portable sculpture around on the sidewalks and streets in between the different venues so people could relax. The nest was created out of woven willow as well as dried plants and dead branches from multiple foraging trips into urban nature. The velvety nest interior provided a great place to chirp with a friend or take a nap.
Collective Creation:
My background is in fibres and textiles. This project involved the use of both the warp and weft from my weaving days. Creating Nest was a very collaborative process involving many friends chatting and weaving at once. We soaked the willow first in a giant bathtub for days so it would be pliable. The structure became more and more massive, solid, strong, and realistic with each passing day. My creation team and I put about 200 hours of labour into this woven sculpture. We created it in my backyard in Montreal surrounded by snacks, birds, squirrels, and trees.
The Animal:
Over the years I have worked with both wolves and unicorns. But for many years, I have wanted to create a large nest with human birds. I was pleased it finally came to fruition. The ceramic egg was conceptualized and designed at the last minute, glazed and fired in the kiln, by my highly skilled friend Wai-Yant Li. This beautifully crafted object brought an even higher performativity to the work. People enjoyed the role they played as guardian of the egg. They seemed to deeply relish carefully holding the unhatched egg with an interesting sense of purposeful care and protection.
Social Practice:
Practicing intimacy through encounters within art has been the backbone of my work for years. I love to investigate themes of community, trust, and energy exchanges. This piece is no different in that I am caretaking in a fun, light hearted way for all my participants. Interactivity, I believe, is crucial within my art making practice as it breaks down the cold hard barriers between the artist and the audience. It also allows for people not only to touch the actual art but to be an integral part of it – something that has been disallowed by institutions for years. We all remember security guards at museums sternly telling us to step away from the art. Instead this art acts as an excuse for human interaction – the participant being at the center of this work rather than the art. The work was highly interactive with people chatting amongst themselves, with me, or with their friend. There was even some impromptu performances, music making, and dancing in and next to the work! Encuentro was a festival of over 700 performance artists, activists and academics from North and South America, so there was a definite joie de vivre in the audience.
My team consisted of:
Zuzu Knew, D.j. Fraser, Morgan Paige, Asher Faerstein, Troy La Biche Davis, Wai-Yant Li, Felix Foxglove, Lailye Weidman, Alexis O'Hara, Tif Flowers, Julie Matson and K Hanley. Photography by: Nikol Mikus Curators: Stephen Lawson and Shauna Janssen.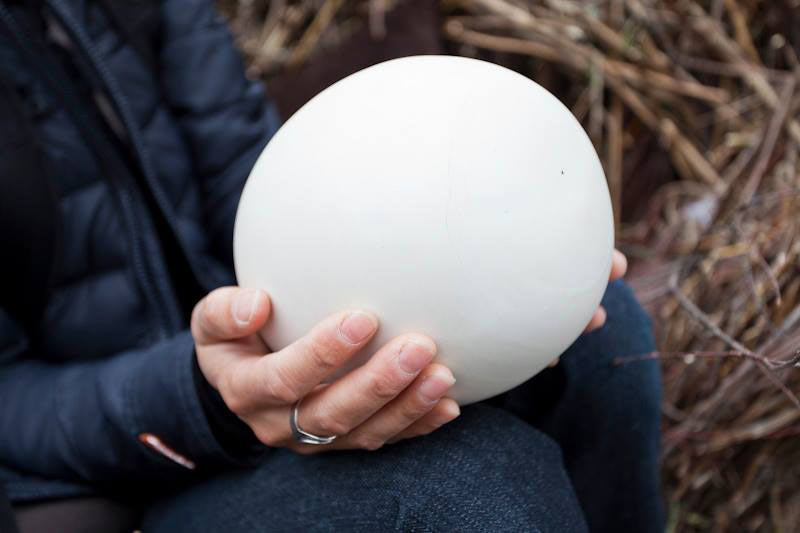 Nest by Coral Short. Above: the egg by Wai-Yant Li. Photo courtesy of Coral Short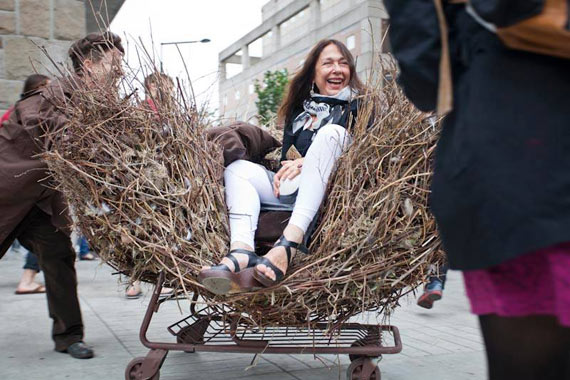 Nest by Coral Short at The Hemispheric Institute Encuentros. Photos courtesy of the artist.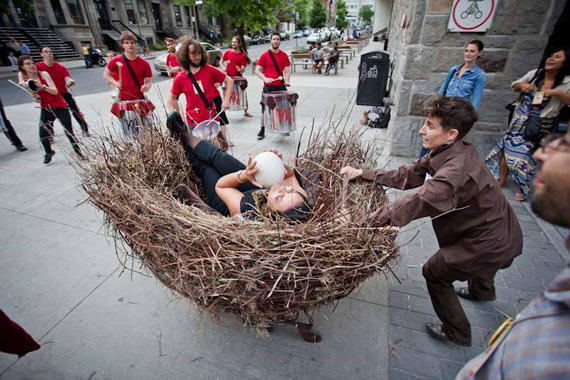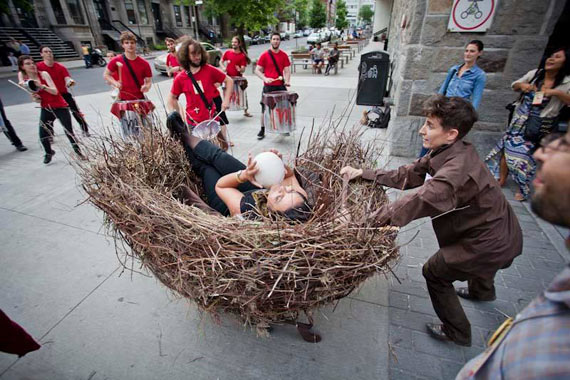 Nest by Coral Short at The Hemispheric Institute Encuentros. Photos courtesy of the artist.
About Coral Short
Coral Short is an international queer performance artist and curator. Coral has studied Performance Art at the Chelsea School of Art, London, U.K. Her recent performances include The Insiders, Flânerie, Nest and the collaborative performance Scream Choir. She curated Craftivism an art gathering with an exhibition, performances, installations, videos, workshops and a panel in New York in 2013. And the Craftivism short film programme, about queerness, feminism, and craft, for MIX NYC 2013. Coral is curently based in Montreal, Canada.