New York: Creating A Queer Museum at Leslie-Lohman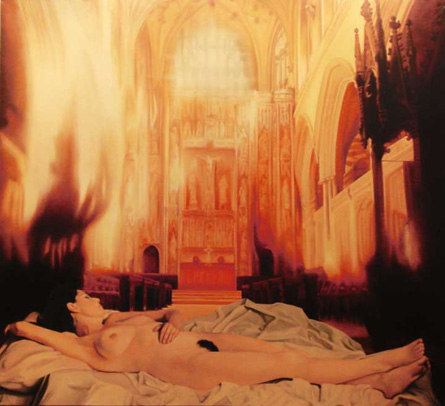 Marion Pinto, Sleeping Church Nude, 1974, Oil on canvas, 71.75 x 79.75″
Press release
Leslie-Lohman Museum of Gay and Lesbian Art presents
    
Creating A Queer Museum
December 14, 2011 – January 28, 2012
26 Wooster Street
(between Canal & Grand)
New York, NY 10013, USA
Opening Reception 
Tuesday, December 13; 6-8 pm
Creating A Queer Museum is an exhibition that celebrates the transformation of the Leslie/Lohman Gay Art Foundation into the Leslie-Lohman Museum of Gay and Lesbian Art. By recent declaration of the Board of Regents of the State of New York, we have become the first, and thus far only, museum in the world dedicated to exhibiting and preserving LGBTQ art and artists.
Art in this exhibition highlights some the most significant works that have been part of our established collection for many years, as well as recent purchases and valuable gifts. We will also be showcasing three of the most significant recent donations to the Museum; the works of Sherwin Carlquist, Amos Badertscher and Marion Pinto.
—
About Marion Pinto
Painter Marion Pinto (1935-2010), born and raised in New York City had the first one-woman show ever mounted at the Leslie-Lohman Gallery in 1975 entitled Man As A Sex Object. Creating A Queer Museum includes works from that show as well as number of her female nudes.
—
About Leslie-Lohman Museum of Gay and Lesbian Art
The museum's press release reads: "The Leslie-Lohman Museum of Gay and Lesbian Art includes a permanent collection of over 6,000 works. For Creating A Queer Museum, we have pulled representative selections by such notable artists as Wilhelm Von Gloeden, Robert Mapplethorpe, JEB (Joan E. Biren), Keith Haring, Peter Hujar, Andy Warhol, Catherine Opie, Minor White and Tee A. Corrine, along with other works by celebrated queer artists. This collection, while rich in established names, also includes works by a number of emerging, unknown figures, many of whom, by virtue of their subject matter, have found it difficult to show in mainstream venues. The new Museum will mount historical, thematic, and survey exhibitions drawn not only from its permanent collection but also from museums and private collections around the world. It opened as a Museum in September 2011 with the exhibition entitled Lesbians Seeing Lesbians: Building Community in Early Feminist Photography.
Though newly accredited as the first dedicated LGBTQ art museum in the world, the Leslie/Lohman Gay Art Foundation, founded by Charles W. Leslie and Fritz Lohman, has for more than 20 years, persevered in its mission to exhibit, preserve and foster the works of LGBTQ art and artists. A non-profit, membership organization, the Museum is committed to offering all of its exhibitions with no admission charge. We encourage individuals and the community to join us in creating an institution that does what far too little of the New York art museums have dared to do — articulate the historical and continuing queer presence in the American art world.
Even well before the cultural wars of the mid 1980's, the representation of sexual difference in art has been aggressively policed. And America's museums, with few notable exceptions, have been silent in the face of what is now the most vocal contemporary civil rights frontier. But there has never been a shortage of LGBTQ art on display in America's museums; what has been lacking is the courage to articulate that fact. The Leslie-Lohman Museum of Gay and Lesbian Art will finally speak what has been hiding in plain sight."
---
Tagged Artists in This Post:
---