Fundraiser for a Sociosexual Video: Community Action Center
Press Release by A.K and A.L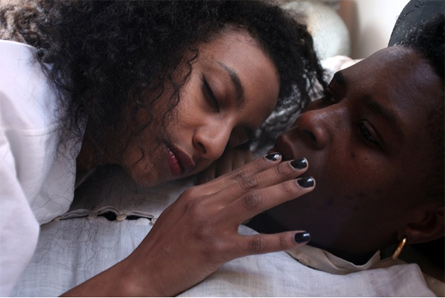 Video still from Community Action Center
We need your support for our fundraiser: Community Action Center
We now have less than 3 weeks to hit our fundraising goal of $9500 by Dec 21, 2011 – we've come a long way but we are still far from our goal. We must reach our minimum goal by Dec. 21st to be granted any of the money – it's either all or nothing.
This fundraiser will take our video, Community Action Center, on a nationwide screening + live-discussion tour to rural LGBTQ community centers and provide 50 performers & musicians with artist fees for their contributions to the project. (…)
Community Action Centre
A.K. Burns and A.L. Steiner's 'Community Action Center' is a 69-minute sociosexual video incorporating the erotics of a community where the personal is not only political, but sexual. This project is a unique contemporary composition, an archive of an intergenerational community built on collaboration, friendship, sex and art. Burns and Steiner worked with artists and performers who created infinitely complex gender and performance roles that are both real and fantastical, set to a soundtrack of music by Chicks on Speed, Effi Briest, Electrelane, Chateau featuring K8 Hardy, Lesbians on Ecstasy, Light Asylum, MEN, Motherland, NGUZUNGUZU, I.U.D. (Lizzi Bougatsos & Sadie Laska), Kinski and Thee Majesty (Genesis P-Orridge), and featuring original compositions by Justin Bond, Nick Hallett & Sam Greenleaf Miller, Ashland Mines & Wu Tsang, Sergei Tcherepnin and Tri-State Area with AV Linton.
We would like to compensate the collaborators who worked with us to realize the project, as well as plan a tour of Community Action Center to LGBT centers across the U.S.  This work has been created with the generous support, time and creative energy of more than 50 visual artists, performers, musicians, composers, PA's, advisors and technicians. Our fundraising effort will provide honoraria to these people, without whom this work would not have been possible.
We view this work as an important political gesture regarding feminist politics and expanding the vocabulary of queer sexuality, thus our other primary goal is to be in dialogue with LGBTQ communities throughout the country. We will be screening the video at universities, film festivals, museums and galleries internationally who can independently fund our presentations, however there are thousands of additional members of the LGBTQ and extended communities whom we can reach via local screenings, but whom cannot fund our presentation. We screenedCommunity Action Center at The LGBT Center in NYC last year, and the success of that powerful and empowering event highlighted the value of a series of screenings + live discussions in smaller urban and rural communities.
We feel deeply that this pivotal portrait gives voice, body and historical context to vibrant and viable queer communities.
—-
Review
Visual artist Anthea Black, Canada writes: The film is a great work and is generating amazing dialogue about the history of queer film, spaces, architectures and also the future of our production and representation.
Related Links
A.L. Steiner's artist profile at Saatshi Gallery
A.K. Burns' website