Pamela Dodds – Artist's Statement
Statement and images by Pamela Dodds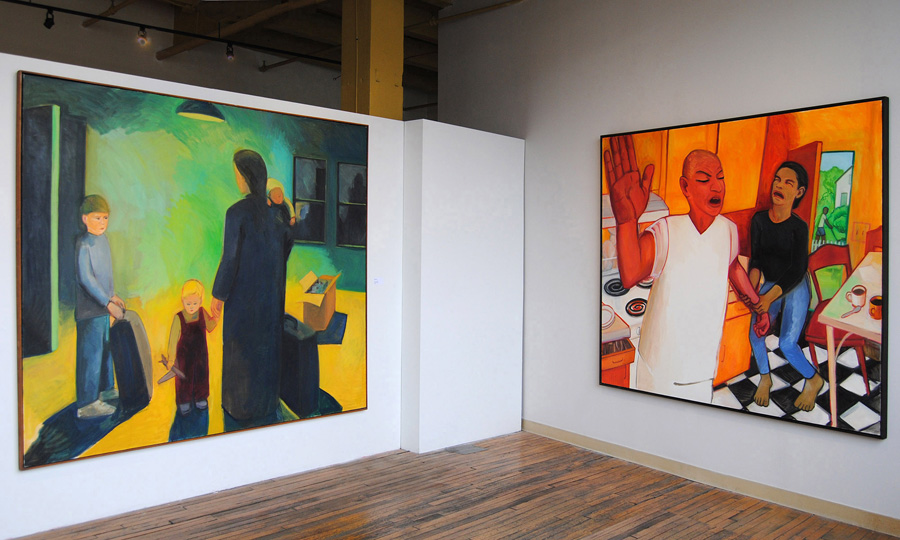 Installation view – L: Moving, R: Morning Coffee. Oil on canvas paintings by Pamela Dodds.
Exhibition:
Something I Want to Tell You – Big Paintings by Pamela Dodds
Suite 215 Gallery, 78th Street Studios Building,
1300 W 78th St, Cleveland, Ohio, 44102, USA
thru July, 2020
Pamela Dodds: In these large, oil on canvas paintings, I explore complex moments in human relationships, often reflecting interracial relationships and broader socio-political narratives. I believe that it is in these layered, sometimes fraught, sometimes fleeting situations, that individuals act and react – making choices that ultimately affect the course of a society. Through a synthesis of color, form and representational imagery, I explore the conflicts and communions of daily life, reflecting on the small, private struggles that everyone experiences, often as momentous challenges.
The scenes and characters in these paintings, which were created between 1993 and 2007, are not autobiographical snapshots of my life. They are created from moments lived, observed, remembered or envisioned. Often, I have translated a personal experience into something similar but different. Many of the paintings portray troubling family scenarios, or moments between strangers.
An important aspect of these paintings is their size. The paintings are big enough to fill one's vision when standing in front of them. The figures are life-size or larger. The effect of this scale is to envelop the viewer in the moment. One feels as if one is in the same room with the people on the canvas. The colour, scale and composition create an immediacy for the viewer. When looking at these images online, try to imagine the paintings filling the wall in front of you.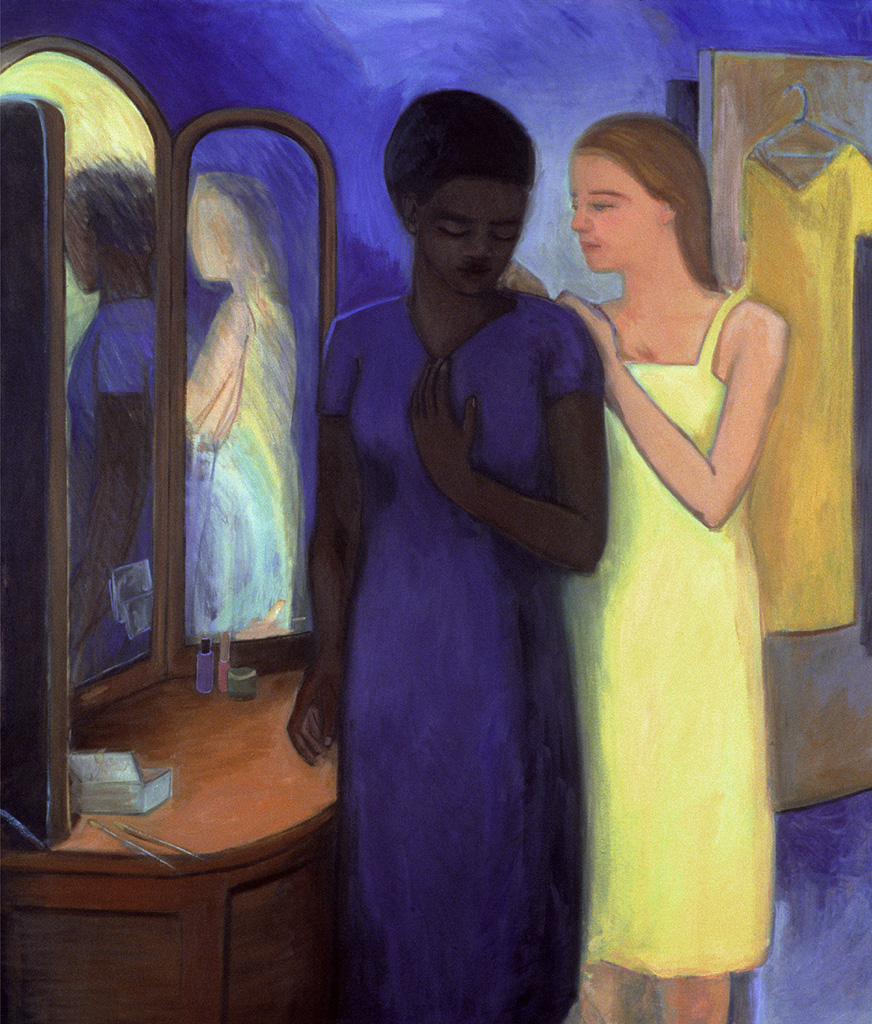 Dressing. 70 x 60 in. 178 x 152 cm, oil on canvas by Pamela Dodds, 1993.
Depending on the personal history and experience of the individual, these narratives can be interpreted differently. There is no right or wrong interpretation. Indeed, the open-ended stories are intended to encourage personal engagement. Several paintings portray relationships between women such as the painting Dressing, a tender scene in which two women appear to be dressing for an evening out, and Dance Club, a celebration of a particular era of women's clubs or dance nights.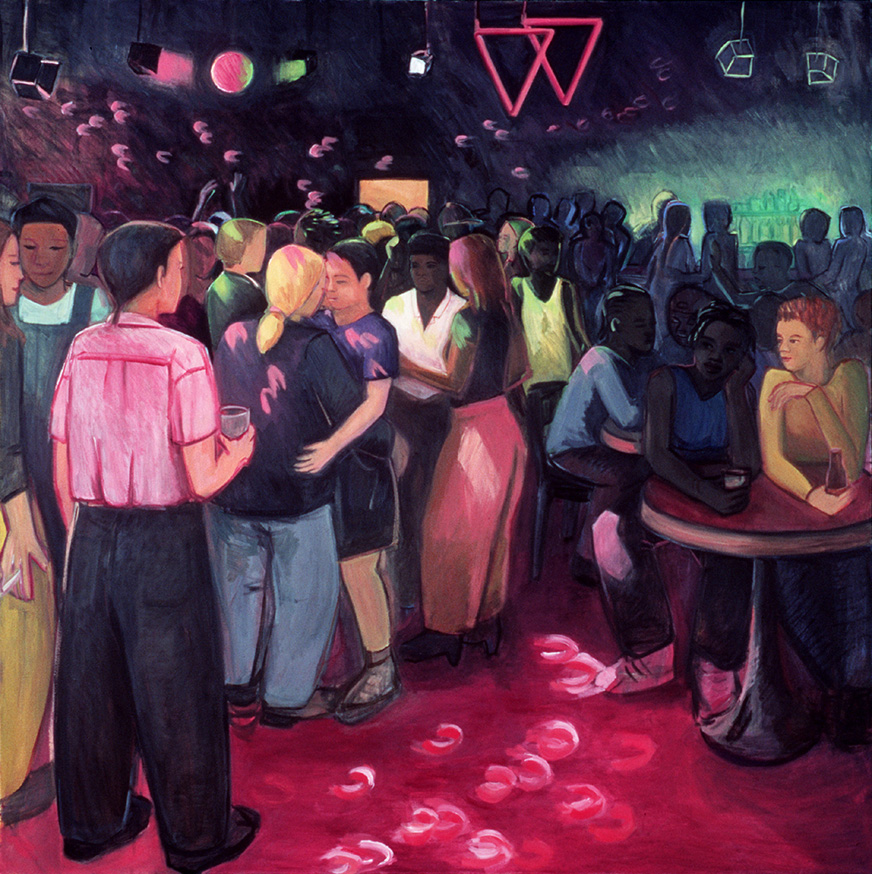 Dance Club. 78 x 78 in. 198 x 198 cm oil on canvas by Pamela Dodds, 1997.
I am pleased to say that "Something I Want to Tell You – Big Paintings by Pamela Dodds" has been extended through July, with the hope that people in the area (Cleveland, Ohio, USA) will be able to go and see the show in person. Meanwhile, I write this from my home in Toronto, Canada, hoping that all of you who are reading this are safe and ok. The pandemic has brought us to a new reality, unsettling for some, devasting for others. It is at these times, I believe, that we must do everything we can to project love into the world and bestow love on those around us. The strain on our relationships – of being too closely confined with our loved ones, or too far separated from them, presents an intense challenge for our well-being and for our societies. It's a time that calls for compassion and emotional generosity – for others and for ourselves. Be kind, be creative, stay safe.
About Pamela Dodds
Pamela Dodds's practice in painting and relief printmaking explores the complexities and nuances of human relationships, drawing from a feminist, lesbian sensibility. Her work examines the uniquity of individual experience, as well as the universality of human longing and desire. She is further inspired by studying the interconnectedness of humanity across time and space and the natural world and the ways in which we affect and are affected by each other's actions.
Dodds's work is exhibited regularly in Canada, the USA, and most recently in Europe. Her work has been purchased by the Cleveland Museum of Art, Ohio, Capital One Bank, Toronto, Boston Public Library, Massachusetts, and many individuals. She has been awarded numerous fellowships and residencies in Canada, Spain, the USA and the UK. She has received financial support from Ontario Arts Council, the Gottlieb Foundation, NY, Massachusetts Cultural Council, and Barbara Deming Memorial Fund Grant for feminist art. Pamela Dodds was born in Canada, lived for many years in the USA, and currently lives and works in Toronto. Her work is available for sale through her website and she is currently developing an online shop to facilitate purchases.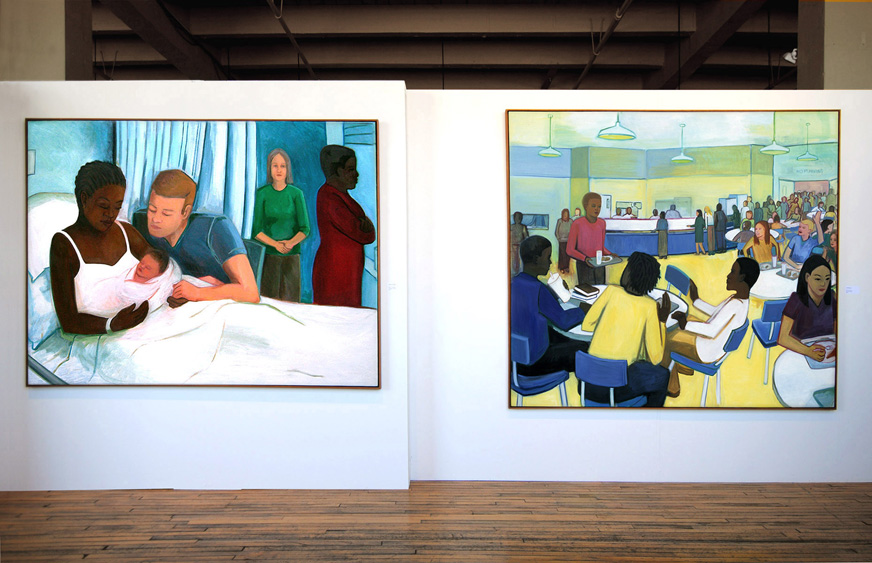 Installation view – L: Love Child, R: Cafeteria. Oil on canvas by Pamela Dodds.
Related Links
Pamela Dodds – The artist talk with the LGBT center of Greater Cleveland (April, 2020)
Drawings of Tools by Pamela Dodds (2019)
Pamela Dodds – Artist's Statement / Undertow – An Installation of Relief Prints (2017)