Pride Art: "The Songs of Bilitis", Sapphic Love Poems Illustrated by Dganit Greier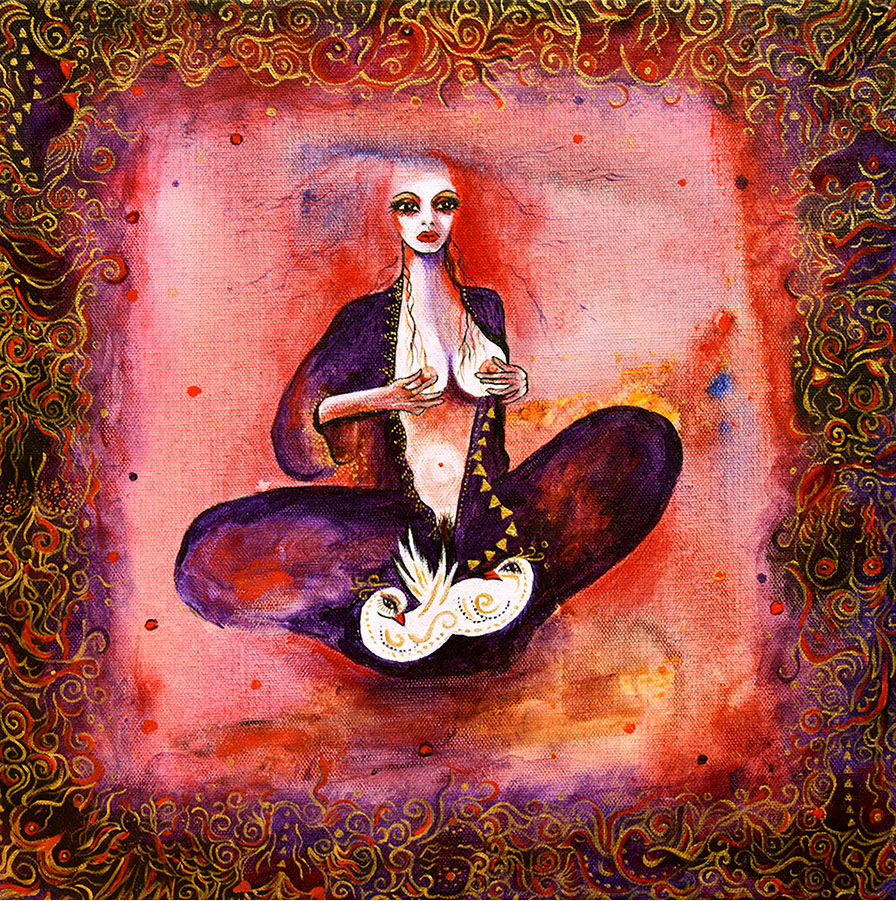 Mnasidika's Breasts, *Hommage to Mapplethorp. Acrylic and gold leaf, 14″X14″ (35.56cm X 35.56cm). Copyright Dganit Greier.
Carefully, with one hand she opened her tunic and offered me her warm and sweet breasts, just like a pair of live doves are offered to the Goddess./ "Love them well", she said to me; "I love them so much! They are cherised, the little children. I busy myself with them when I am alone. I play with them; I give them pleasure"./ "I soak them in milk. I powder them with flowers. My soft hair which wipes them is precious to their little nipples. I caress them shivering. I soothe them in wool"./ "Since I shall never have children, be their nursing, my love, and, since they are so far from my mouth, kiss them for me".
The Songs of Bilitis
The series of illustrations were done between 2019-2021. Dganit Greier explains, for two and a half years I illustrated the poetry "Songs of Bilitis" by the French author Pierre Louys (1870-1925). The second chapter of the book is about Bilitis' lesbian love. Happy, beautiful and painful.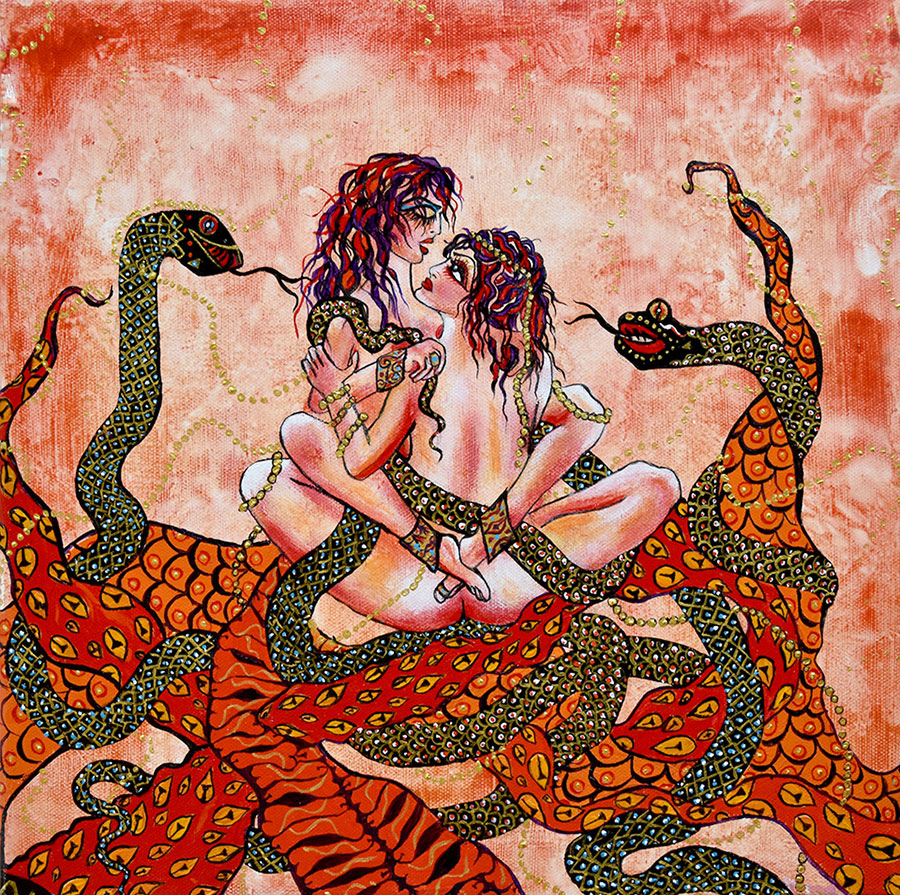 Cracy Embrace. Acrylic and gold leaf, 14″X14″ (35.56cm X 35.56cm). Copyright Dganit Greier.
Love me, not with smiles, flutes nor plaited flowers, but with you heart and your tears, as I love you with my breasts and my groans./ When your breasts match between my breasts, when I feel your life touching my life, when your knees rise up behind me, then my breathless mouth does not even know how to unit with yours./ Embrace me as I embreace you! Look, the lamp had died out, we toss in the night; but I press your moving body and I hear your constant moans…/ Moan! Moan! Moan! Oh woman! Eros drags us into agony. You will suffer less in this bed bringing a child into the world than giving birth to your love.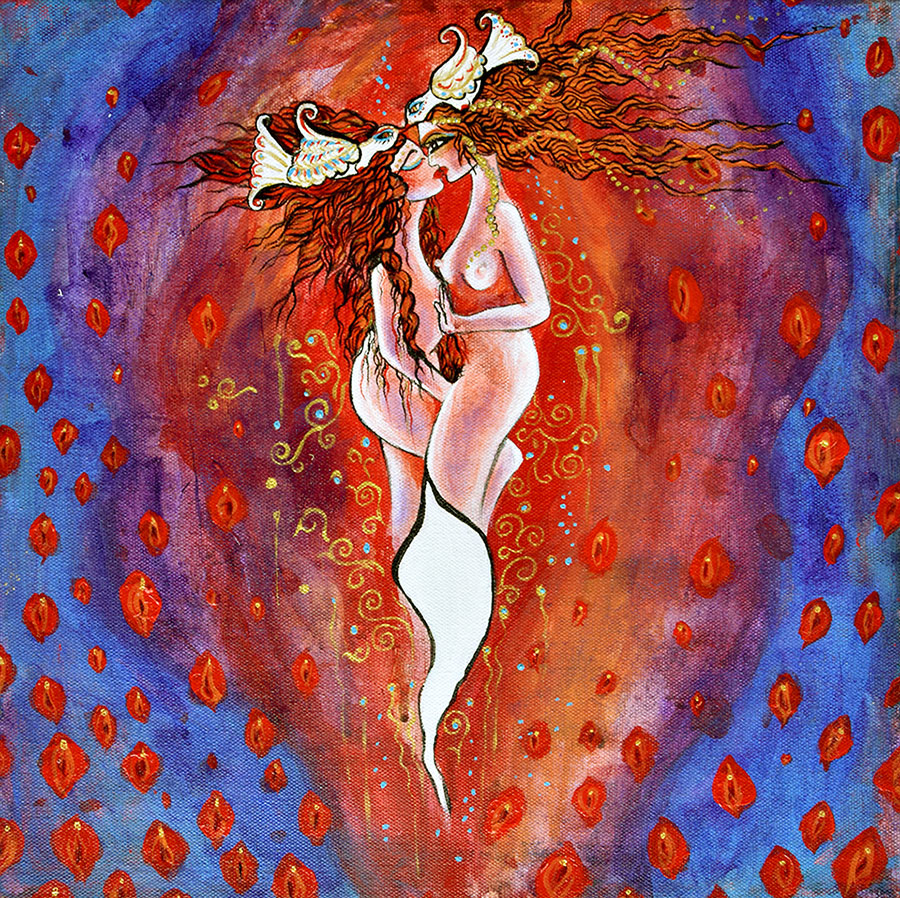 Desire. Acrylic and gold leaf, 14″X14″ (35.56cm X 35.56cm). Copyright Dganit Greier.
She entered, and passionately, the eyes half closed, she united her lips with mine and our tongues knew each other… Never in my life there was a kiss like this one./ She was standing against me, all amorous and consenting. One of my knees, little by little, rose between her hot thighs which conceded as though for a lover./ My shuffling hands over her tunic sought to sense the secret body, which alternateting bended swaying, or arched stiffened with shivering of the skin./ With her delirious eyes, she indicated the bed; but we had no right to love before the wedding ceremonies, and we abruptly separated.
About the Artist
Dganit Greier, born in Israel, in the early '50's, I discovered erotic female poetry when I was 18. Under the blanket readings, under the blanket existence. So many question marks and no courage to ask nor to explore. I am so grateful to our place in the Feminine history today. I can finally express the beauty of female love without hesitations, with joy and candor. I currently live in Venice, Florida, active at the FAB (Fabulous Arts Foundation – LGBTQ plus Arts) in Sarasota. The collection of 28 illustrations to "Les Chanson de Bilitis" by Pierre Louys (1894) was created with joy and pain during two years.