Proud Queer Women Artists
Text: Birthe Havmoeller / Feminine Moments
Photos: Elinore Lindén Strand and Birthe Havmoeller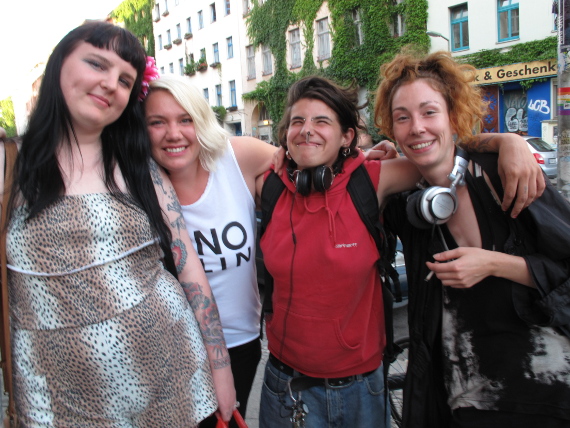 Artists Frida Isotalo, Elinore Lindén Strand, Pipi Sanchez and Sofie Elsta, Berlin July 2013. Photo by Birthe Havmoeller.
NO FEAR
a group exhibition by Pipi Sanchez, Frida Isotalo, Elinore Lindén Strand and guests, July 24 – 27, 2013 at KKB, Gross-Berliner Damm 80, 12487 Berlin-Treptow, Germany.
I met with a group of women artist at a cafe in Kreuzberg, Berlin, on the eve of the opening of their latest group exhibition titled NO FEAR. They were busy planning the last details and I asked them to tell about their art project and what all this "fear"/"no fear" is about?
They told me that they are a collective of queer women, who have come together for the making of this collaborative exhibition, because they saw that their individual works were all different takes on the same subject "fear"/"no fear".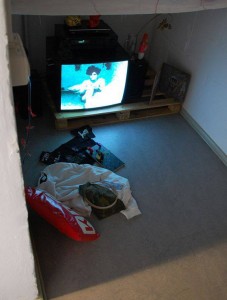 Pipi Sanchez explained that as a young Italian artist living and working in Berlin-Treptow, she has used 'no fear' as a personal mantra. A conscious raising mantra as our society wants to fill your heads with fear. Fear of our future, fear of our past, fear that you are not good enough to succeed and raise your material status. Fear of our personal and professional desires. Fear of your sexuality and coming out as a queer woman. At the exhibition Pipi presents an installation presenting videos, textile works and readymades. (See photo).
Swedish photographer Elinore Lindén Strand has made a new series of B/W photographs. Her new body of work for NO FEAR exhibition is made at home in Södermalm, Stockholm. They are experimental male portraits set in an urban area. They have a darker tone than her previous works, which are bright and colorful erotic images. Previously she has made a lot of photography based works, now she'll also create an installation with a deep erotic feel. (See photo below). Her installation is about the fear of nazism and the desire for the clean boots, the short cut hair and the innocent blue eyes. – Splitting her time between Stockholm and Berlin has made Elinore see the European history in a new light. She explained, I have worked for several years with art projects exploring sexuality and desire and when I found nazi-uniforms being a fetish-style I wanted to explore that further.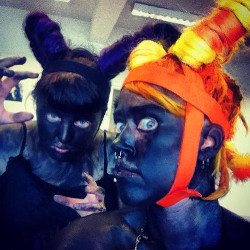 Swedish performance artist Frida Isotalo describes herself as a woman with a working class background, and tells me that she used to be involved in a punk community in Sweden when she was young. During a recent residency in Japan she was reading about Zen Buddhist meditation, and started doing performances. At the NO FEAR exhibition Frida will be presenting some of her performance videos and do two performances live. One solo performance and the other together with Swedish artist Stina Andersson. In her performances Frida is be focusing on her darker sides, wearing dark clothes, painting herself with black paint and organizing junk around herself as symbols of her unconscious. Her performances are an emotional as well as creative and meditative process for her. Frida explains that fear is a trigger which will start a conscious raising process. Her aim is to be in the moment, not thinking about the past or fearing the future. Just practicing the mindfulness of the present in her daily life as well as when she is in the middle of a creative process doing her performances. This makes her forget about her angst and and daily anxieties. In her videos she is performing a ritual. Putting on clothes, presenting herself as a special character. A meditative process, which gives her peace of mind.
All the women artists talk about meditation having an important role in their creative work and their practices. Collaborating on the NO FEAR exhibition and creating a queer space is a queer feminist conscious raising process for them. The hierarchical structure of many art institutions and exhibition spaces might kill their creativity and power as young artists. The intuitive creative process of creating this show as an independent collective, without a curator to tell what is right and wrong, makes them feel proud as out queer women.
The collective has invited two guest artists Sofie Elsta and Åslög Enochsson to present their works at the exhibition: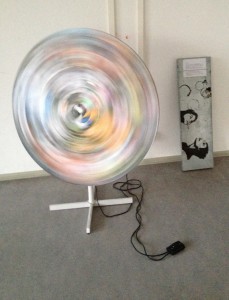 German artist Sofie Elsta will show her new collection of clothing. She is an artist and a fashion designer with her own label. In the cafe Sofie Elsta took her smart phone and showed us a video of her latest installation, a spinning collage (See photo). She feels that when you select you clothes you design your personality. For Sofie it is important that clothes are flexible. That they can be worn for casual as well as formal activities, i.e. for work and for dancing. Working with flexible materials such as fabrics as opposed to rigid things/structures is her way of integrating her queer identity in her work.
Åslög Enochsson, a Swedish artist currently based in Berlin, makes post-pornographic art and explores sexuality from a new perspective. She explores the possibilities of looking at the pussy as a monster, rather than a passive victim. At the NO FEAR exhibition her installation piece and the video The Return of the Hymen will be a part of an ongoing process about tentacle porn. The video presents the self-repairing of the hymen in a very personal and spectacular way.
[illustration above by Elinore Lindén Strand:
Exhibition view of Pipi Sanchez' installation at the NO FEAR exhibition.
Performance artists Frida Isotalo and Stina Andersson
Spinning collage installation by Sofie Elsta at the NO FEAR exbibition, 2013.]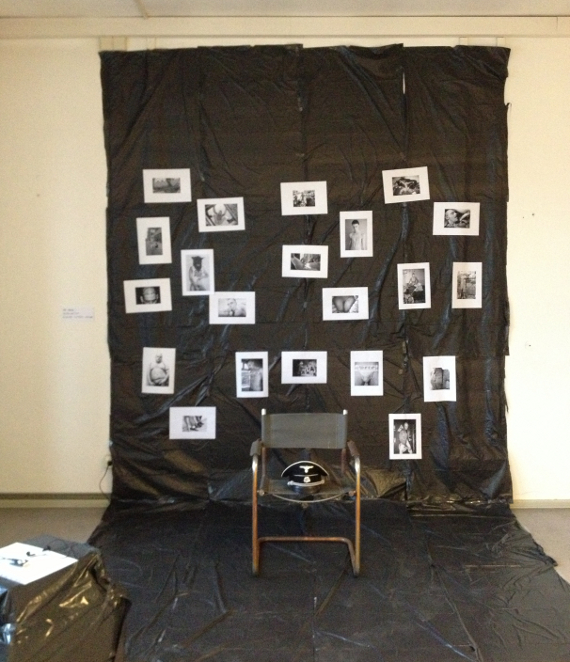 NO FEAR, Installation by Elinore LIndén Strand. Exhibition view from the exhibition NO FEAR in Berlin July 2013. Photo by Elinore Lindén Strand.

Sculpture by Sofie Elsta, 2013. Photo from the NO FEAR Exhibition by Elinore Lindén Strand.
Related Links
Elinore Lindén Strand (photography, readymades, installation)
Pipi Sanchez (photography, video, performance)
Frida Isotalo (video/performance)
Åslög Enochsson's production company Lo-Fi Cherry Porno Pics