Queer Photos – New Family Portraits by Verena Jaekel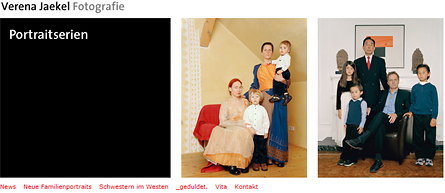 Photographer Verena Jaekel's website
Photographer Verena Jaekel's latest art project 'New Family Portraits – Neue Familienportraits' consists of a series of portraits that investigates the issue of current new family constellations. The traditional concept of family – the trinity of father, mother and child – has been joined by a variety of different family situations and personal conceptions of life, which involves same-sex partners.
Verena's project "New Family Portraits – Neue Familienportraits" was realized both in Germany and the United States. The United States – in particular San Francisco, home to world's largest queer community, and New York, source of the legendary protests on Christopher Street – were long seen as the motor for a movement that became highly influential in Germany too. At the moment you can see 11 photos of Verena's very diverse portraits new queer families on her website: Verenajaekel.com
 
Verena Jaekel is living in Berlin. In 2008 she exhibited at the Nigah – Queerfest – in New Delhi. The group show (curated by Sunil Gupta) was titled 'Queer families – portraits of kindship'. Queerfest, India, wrote about the show: 'Queer people often talk about their 'queer families' – friends, lovers, parents, siblings – around whom they build their lives. This is another kind of family: one that often includes but always goes beyond biology. One that challenges the rules – legal, cultural, economic, and social – by which we are supposed to consider people part of a 'family'. One that establishes new kind of relationships, new ways to live our lives. One that deserves to be taken as serious and celebrated as equally, as the traditional family has been. The queer show in New Delhi also featured among others photos by Zanele Muholi.
Verena loves travelling and she will soon be going to India to work on a new photography project.
Related link