Queer Visual Culture – Spring 2017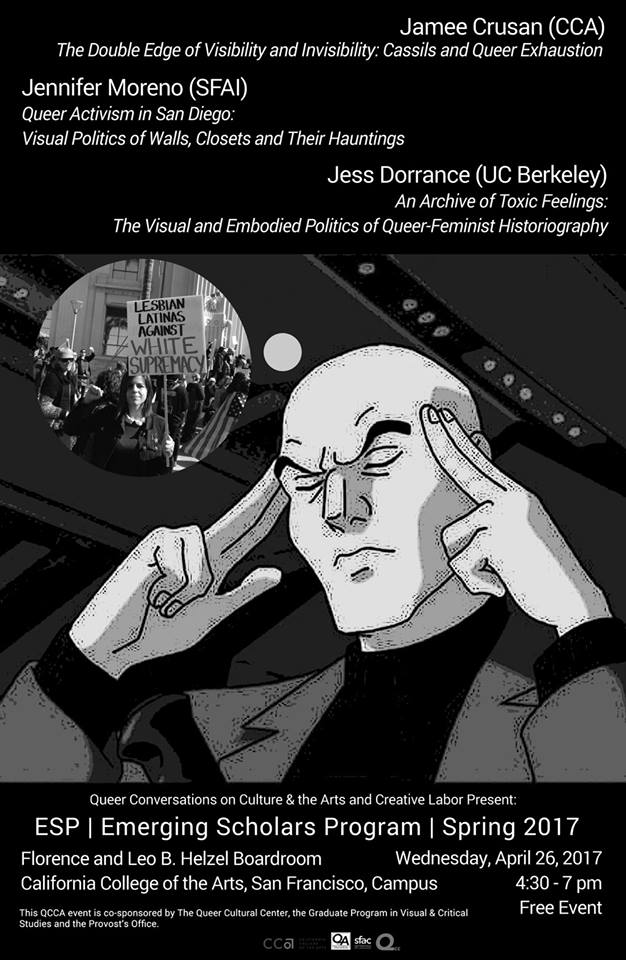 Emerging Scholars Program
Wednesday, April 26, 5:00–7:00 pm
Florence and Leo B. Helzel Boardroom, San Francisco Campus, USA
Free and open to the public
Jamee Crusan (CCA) will present The Double Edge of Visibility and Invisibility: Cassils and Queer Exhaustion.
Jennifer Moreno (SFAI) will present Queer Activism in San Diego: Visual Politics of Walls, Closets and Their Hauntings.
Jess Dorrance (UC Berkeley) will present An Archive of Toxic Feelings: The Visual and Embodied Politics of Queer-Feminist Historiography.
More info: Tina Takemoto, ttakemoto@cca.edu
This QCCA event is co-sponsored by The Queer Cultural Center, the Graduate Program in Visual and Critical Studies and the Provost's Office.