QUEER|ART|PRIDE BOOK & PRINT FAIR – in New York
Excerpt from newsletter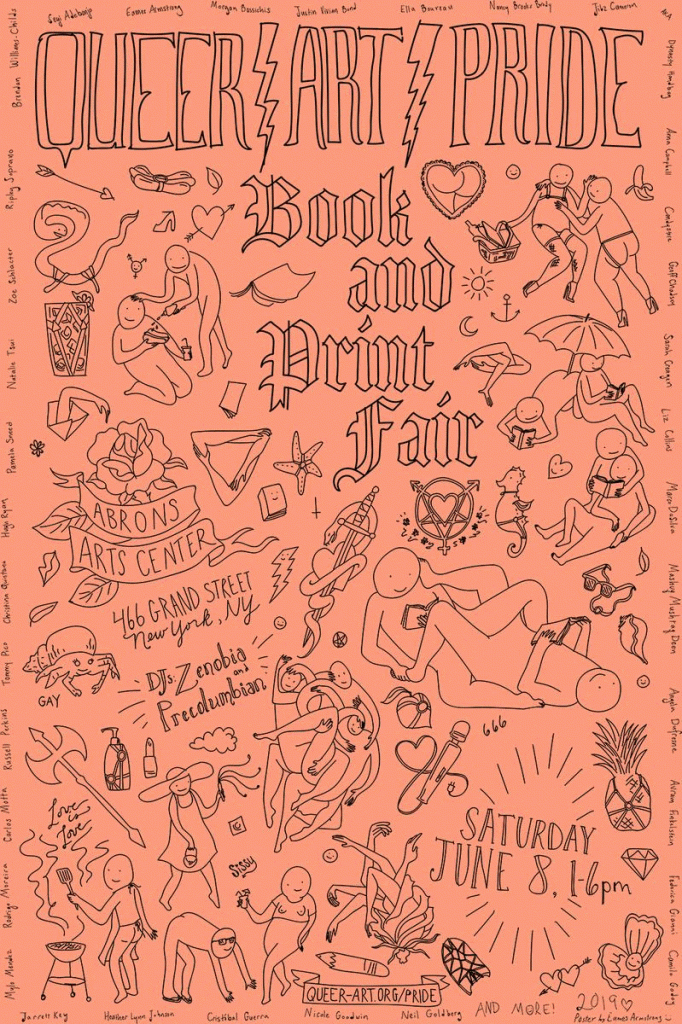 Queer|Art's First-Ever Fair with 30+ Participating Artists, presented at Abrons Arts Center
The centerpiece of Queer|Art|Pride 2019 is the first-ever Queer|Art|Pride Book & Print Fair, taking place throughout the day on Saturday, June 8th, with work available for sale by 30+ participating LGBTQ+ artists from the Queer|Art|Mentorship program. Curated in the spirit of abundance, the Queer|Art|Pride Book & Print Fair will include hundreds of works for perusal and purchase, with an eclectic range of artist books, novels, zines, poetry chapbooks, drawings, photographs, watercolors, collages, prints, and other limited edition artworks spilling out from Abrons' main gallery and into the outdoor amphitheater.
What: Queer|Art|Pride Book & Print Fair
When: Saturday, June 8th from 1–6pm
Where: Abrons Arts Center, 446 Grand St. New York, USA.
FREE, Open to the Public, RSVP Recommended
Many artists will be present to discuss their work, sell it, and autograph it, too, while live performances and readings throughout the day provide additional opportunities to hear the work out loud. A cool and celebratory vibe will carry the day with alternating DJ sets by Zenobia, known for her focus on music by femmes of color, and Precolumbian, whose Philadelphia-based parties center queer and trans people of color. Food and drinks will fill out the festivities in true block-party style!
PARTICIPATING ARTISTS
Over 30 Queer|Art|Mentorship Artists
Participating artists include: Seyi Adebanjo, Eames Armstrong, Morgan Bassichis, Justin Vivian Bond, Ella Boureau, Nancy Brooks Brody, Jibz Cameron (AKA Dynasty Handbag), Anna Campbell, Candystore, Geoff Chadsey, Sarah Creagen, Liz Collins, Marco DaSilva, Mashuq Mushtaq Deen, Angela Dufresne, Avram Finkelstein, Federica Gianni, Camilo Godoy, Neil Goldberg, Nicole Goodwin, Cristóbal Guerra, Heather Lynn Johnson, Jarrett Key, Mylo Mendez, Rodrigo Moreira, Carlos Motta, Russell Perkins, Tommy Pico, Christina Quintana, Hugh Ryan, Pamela Sneed, Natalie Tsui, Zoe Schlacter, Ripley Soprano, and Brendan Williams-Child.
A sneak peak of the works of one of the queer feminist artists taking part in the fair:
Through Multi-year QAM Mentor Angela Dufresne's works, she creates narratives that are both non-hierarchical and perverse. For the Book & Print Fair, Angela will share a large collection of collaborative drawings she has made over the years with her friends. Pictured here is an exquisite corpse made in collaboration with Multi-year QAM Mentor Geoff Chadsey.