South Africa: ANTI-CENSORSHIP
Activist and visual artist Zanele Muholi has send the article ANTI-CENSORSHIP, which was published in the Sunday Tribune, South Africa, July 2011.
Sunday Tribune's Vivian Attwood quotes activist, black lesbian and photographer Zanele Muholi who talked about her work as a visual activist:
 'I am an activist before I am an artist. (…) My work is based on real issues and its purpose is to heal and inform … Gender non-conforming communities need to find their voice through the medium of art.  We can't continue to pretend that the world is dominated by heterosexuals. We need images to support our identities as same-gender-loving beings. Growing up in Durban there were no images of people like me that I could relate to. I am determined to map and preserve our history as black lesbians, and I dont need to be dissed (criticised) by anyone.'
Umlazi-born lesbian activist and artist Zanele Muholi spoke to Vivian Attwood during this week's anti-censorship seminar about the dangers posed by politicians who deride what they do not understand.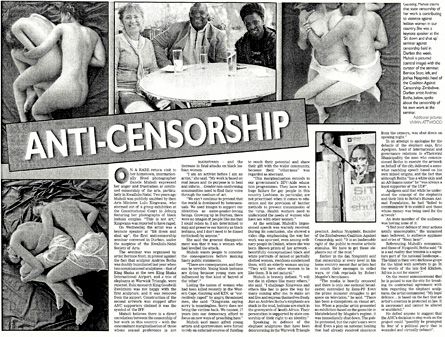 ANTI-CENSORSHIP by Vivian Attwood, Sunday Tribune, South Africa, July 2011
Inkaysio - An Exhibition By Zanele Muholi
See Zanele Muholi's latest exhibition Inkanyiso in Johannesburg at Stevenson gallery with portraits of lesbians from South Africa or have a preview in the article 'Inkanyiso by Queer Photographer Zanele Muholi'  published by Feminine Moments.
Zanele Muholi: Inkanyiso
@ Stevenson gallery, 62 Juta Street (next to Mandela bridge)
Johannesburg, South Africa
The show opened on July 7 and runs through August 5 2011
Related Links
Zanele Muholi's website