Step Into A Camera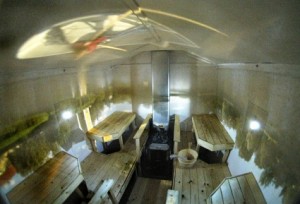 Camera Obscura – A Shippingcontainer Camera
Step in to a camera! Experience the city inside a camera obscura produced in cooperation between Ateneum Art Museum and the Finnish Museum of Photography. Artistic design, Heidi Lunabba.
Ateneum May 6th – June 6th 2010.
Open Tuesday – Sunday 10am – 3pm.
Outside of Ateneum in the park facing Mikonkatu, Helsinki city centre.
Finnish Museum of Photography June 8th – August 31th 2010. Open Tuesday – Sunday 11am – 3pm and Sunday 2pm – 3pm. In the yard of Kaapelitehdas, Ruohonlahti, Helsinki, Finland. No entry fee!
Sauna Obscura – June 8th – August 31th 2010
Sauna Obscura, a floating sauna that is at the same time a camera will be open for the public this summer in Töölö bay, Helsinki city centre. Bookings for groups: saunaobscura@lunabba.com
Image above: Camera Obscura by queer artist Heidi Lunababba, Finland