Sweden: Queer Art Show And Queer Art Seminars In Umeå
Lost and Found – Queerrying the Archive
:
January 31 – April 25, 2010
at Bildmuseet, Umeå university, 901 87 Umeå, Sweden
Opening reception: January 31, 2010 at 14:00
This international group exhibition was first presented by Nikolaj, Copenhagen Contemporary Art Center, 2009.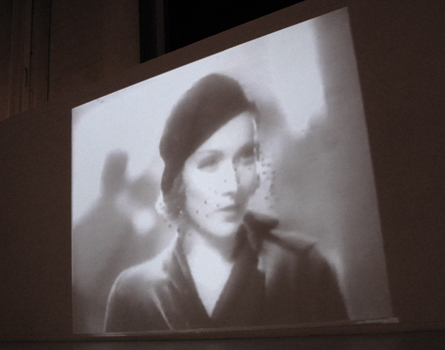 Installation view of 'Meeting of Two Queens' by Cecilia Barriga, Nikolaj, Copenhagen 2009. Photo by Feminine Moments
The Lost and Found – Queerying Archive show, which is curated by Jane Rowley and Louise Wolthers, raises questions about how we can create an archive of the private memories of gender, love and sexuality that have been erased by official archives and excluded from the writing of history? How do we record and store feelings and intimacy? Lost and Found presented a series of spectacular, thought-provoking works addressing these issues through artistic visions of histories compiled and performed from a queer perspective.
The show features works of art by queer female artists Kimberly Austin, Cecilia Barriga, Mary Coble, Aleesa Cohene, Tejal Shah, Heidi Lunabba, and queer male artists Michael Elmgreen & Ingar Dragset, Conny Karlsson, Al Masson, Benny Nemerofsky Ramsay, Flemming Rolighed, Ingo Taubhorn. The exhibition is accompanied by a catalogue with perspectives on queer art, the archive and activism by Jane Rowley & Louise Wolthers, Mathias Danbolt, Ann Cvetkovich, Joe Brainard and Heather Love.
Queer Art Seminars
Along side the Lost and Found Queerying Archive show the Bildmuseet and Umeå centrum för genusstudier (centre of gender studies) organize a couple of queer seminars, where you can meet some of the artist.
Seminar: Queer In Theory And Practice
Bildmuseet, Umeå Saturday January 30, 2010, 13:00 – 17:00
Lesbian artists Mary Coble, USA, Tejal Shah, India and trans artist Conny Karlsson, Sweeden will present their art works.
Mallin Rönnblom from Umeå University will give an introduction to the queer theory and curators Jane Rowley and Louise Wolthers will talk about the exhibition.
Seminar: Queerying The Archive
Bildmuseet, Umeå Saturday April 24, 2010, 13:00 – 17:00
Queer artists Cecilia Barriga, Aleesa Cohene and queer male artist Benny Nemerofsky Ramsey will present their works of art.
And there will be talks by Dr Gavin Butt, University of London and Ulrika Dahl, Sweden,  co-author of the book 'Femmes of power – exploding queer femininities'.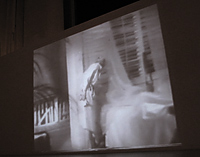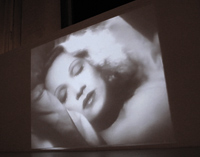 Installation view of 'Meeting of Two Queens' by Cecilia Barriga. Photo by Feminine Moments