Feral by Heather Sherman at Sloan Fine Art, New York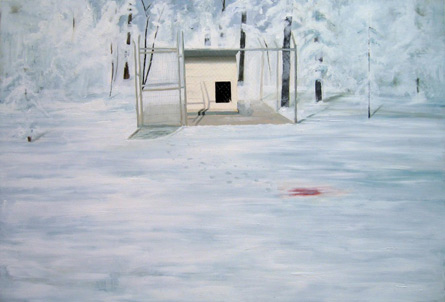 Backyard 2009, oil on panel 24″ x 36″ fromby Heather Sherman, USA
'Feral' opens on Wednesday January 27, 2010 at Sloan Fine Art in New york. The Exhibition features queer artist Heather Sherman's latest paintings. The press release from Sloan Fine Art, New York reads:
"Three years ago, Heather Sherman purchased a mysterious bag of Kodak slides (meticulously organized and labeled "Puppies," "Vacation," "Christmas," etc.) from a thrift store in Florida. While buzzing and clicking through them in her 70's era slide projector, the artist found that her voyeuristic exploration of these people's lives exposed connections to, and elements of, her own past. In a photograph of lawn chairs, she saw the New Year's Eve spent drunk and alone, watching neighbors cheerfully light fireworks while quietly hating them. In a slide of two German Shepherds eating from a woman's hand, she remembered the day she witnessed her mother being attacked by the family dog. And in their fenced-off New Jersey backyard, she envisioned the golf course she grew up on, and regularly vandalized – a bored, rich, gay teenager acting out in the suburbs of Orlando, Florida. In Feral, Sherman projects her psychology onto these strangers and their memories, using them
as a vehicle to confront her own personal history. Some of the stories are fictional, some autobiographical, but all reinforce the need for connectedness and feelings of alienation so rampant in, and integral to, suburbia."
Heather has given me the following background information about the painting above: "I painted 'Backyard' after I spent a winter in Germany making a vampire film, one of the most brutal winters they've had in years. I was completely enchanted by the snow – its muting effects as well as its intense frigidity. This painting is a combination of that experience and a an old 33 mm slide of an American family's outdoor dog kennel. It's an ambiguous narrative about quiet violence."
Feral by Heather Sherman at Sloan Fine Art, New York
Reception: Wednesday, January 27 2010, 6 to 8 pm
Exhibition: January 27 to February 20, 2010
Sloan Fine Art, 128 Rivington Street, New York, NY 10002 USA
The adjective: 'Feral'
Dictionary.com gives the following three definitions of the adjective 'feral':
1. existing in a natural state, as animals or plants; not domesticated or cultivated; wild.
2. having reverted to the wild state, as from domestication: a pack of feral dogs roaming the woods.
3. of or characteristic of wild animals; ferocious; brutal.
Which, if any, that fits best to Heather Sherman's paintings is for you to discover, – if you visit her show, let me know what you think about it. Write your comments below.
About Heather Sherman
Sherman earned her BFA at Ringling School of Design in Florida before moving to New York where she will complete her MFA at NYU this year.