Sydney: Kitchen Sink and Other Domestic Disturbances
Press Release by Anne Bentley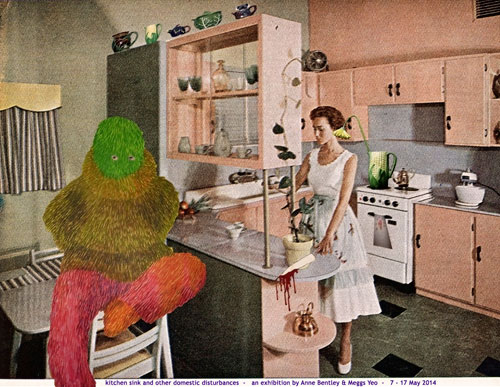 Anne Bentley & Meggs Yeo – cousins alone together for the first time in:
Kitchen Sink and Other Domestic Disturbances
7 – 17 May, 2014
Sheffer Gallery
38 Lander Street Darlington, Sydney 2008 (02) 9310 5683
Wednesday – Saturday 11AM – 6PM
Opening with a welcome by special guest artist, Linda Brescia
Saturday 10th May 2014 2PM – 6PM
Kitchen Sink and Other Domestic Disturbances
Notorious killers and death by lawnmower – embroidery, photography, painting and collage – over 50 works comprise a new exhibition by Meggs Yeo & Anne Bentley.
Kitchen Sink and Other Domestic Disturbances was born out of a mutual love of art, a deep friendship and the same black humour.
Just over 13 years ago, these two artists met for coffee and three hours later, they were fast friends. When Anne first met Meggs, it was not only about art – Anne had just bought a painting by Meggs, but she discovered they were both descendents of the same Irish man on their paternal sides.
Serendipity aside, Anne and Meggs are enthusiastic fans (and collectors) of each others' works and neither know why they hadn't created a joint show together sooner. This could simply be a matter of the right time to do so because, as soon as they decided on a duo exhibition, the ideas came tumbling out and haven't stopped yet.
They've taken a look at our domestic world and turned it sideways: Meggs Yeo began with famous & infamous Australian killers; the women she has embroidered onto tea towels but she gives only a hint of who they were and what they did. She follows on with watercolour & pen drawings of some of the better known inhabitants of Pentridge gaol in Victoria – now a new housing precinct with ½ million dollar apartments. Meggs has also created works of showing wool fetish people (people who wear total body suits made of wool) and Pica people – people who eat non-nutritional substances like rocks, sand and your couch…
Self-taught artist Anne Bentley works with collage, photography and naïve painting. Her seemingly innocuous painting of 3 bottles with striped straws has the title, "Jonestown Lemonade", a reference to the Kool Aid killing of 918 members of the Peoples Temple Agricultural Project. Another painting, "The Dangers of Outdoor Yoga" includes a lawnmower and blood, lots of blood! Everyone seems happy in her kitchen collages but seen in the window is a nuclear mushroom cloud.
Strolling through the creative minds of Anne & Meggs may disturb, but it will more likely delight; so, don't call the men in white coats just yet; these two are the remedy, not the cause.