Teddy Award to Barbara Hammer for best short film 2009
Earlier this year Barbara Hammer got the Teddy Award for the best short film for her film 'A Horse Is Not A Metaphor' at The International Berlin Film Festival. The film is an intimate visual essay about her journey to survive ovarian cancer – the film continues her ongoing investigation of the body and sexuality as well as the transformational possibilities of hope and healing within us all. The Award comes with a cash prize of 3,000 Euros.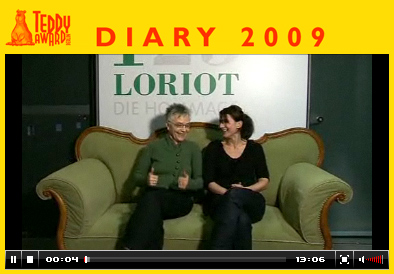 Barbara on Teddy.tv, 2009
Barbara Hammer has given a lovely interview on Teddy.tv about the process of healing from cancer and the film. She has recovered fully from the cancer and was very radiant and energetic at her visit to The International Berlin Film Festival.
You can see trailers of some of Barbara Hammer's film on Vimeo.

A Horse Is Not A Metaphor from barbara hammer on Vimeo.
Barbara Hammers short films are available from her website Barbarahammer.com. She will be publishing her first book on her films in March 2010 and retrospectives at Museum of Modern Art in New York City, The Tate Modern in London, and The Reina Sophia in Madrid.