'This Is Who I Am' by Suzie Pindar
Press release by Flux Exhibition, London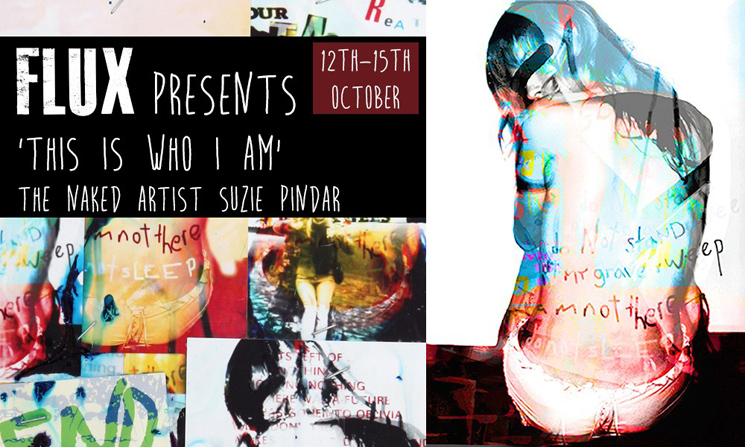 Invitation
FLUX Presents:
'This Is Who I Am' The Naked Artist – Suzie Pindar, Solo Exhibition in London
October 13-15, 2017
Private View:
October 12, 2017 at 19.00 – 21.30
Location: Copeland Road, London, SE15 3SN, United Kingdom
FLUX Exhibition produces large-scale art events that have generated a huge following. They are now delighted to announce an exciting new venture FLUX PRESENTS which will showcase the work of individual or small groups of artists at interesting locations across the UK.
The first FLUX PRESENTS will showcase the edgy work of Suzie Pindar Aka The Naked Artist at a derelict house in South London.
Suzie Pindar is an artist that constantly evaluates the world and the wide range of emotions that are evoked from daily life. Pindar Feels the need to make sense of everything and capture her observations in a way that she can express and later process.
Pindar works on themes that explore memories and moments, happiness, sadness and self-reflection. First seizing the time with words so that the immediacy and her feelings are captured. Pindar later creates imagery that perfectly evokes her thoughts surrounding her experience.
Today Pindar's art is much more explorative in the physical sense, she now uses her body much more to express thoughts rather than just using paper, this combination ensures maximum impact and adds a strength and boldness to her work.
Pindar produces Art that does indeed reveal 'the naked' truth. Embracing experiences whether good or bad and documenting them in her bold self-expressive way. This is work that is honest, that is bursting with feelings and memories, making the ordinary interesting.