Tomaso Binga – A Silenced Victory
Press release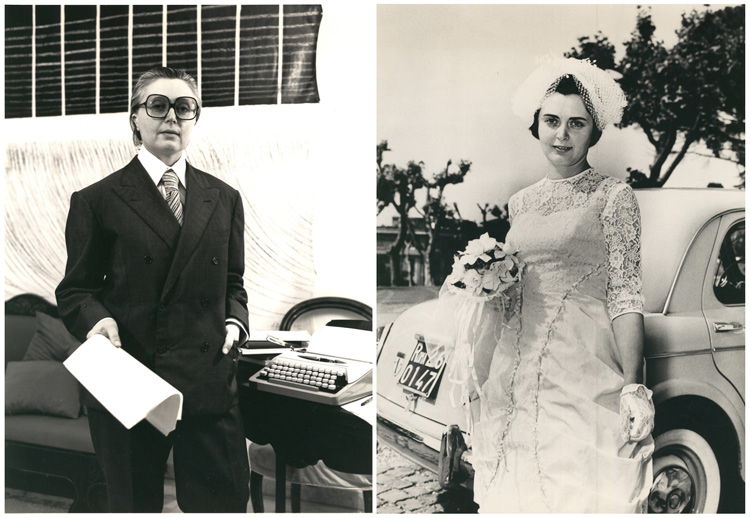 Oggi Spose (Just married), 1977, black-and-white photographs in vintage frames, diptych, cm 19 x 13 (each). Courtesy Tomaso Binga
Tomaso Binga – A Silenced Victory
September 26, 2019 – December 20, 2019
Open Wednesday – Saturday from 12pm to 6pm
Mimosa House, 12 Princes Street, London, UK
London, July 2019 : On 26 September, non-profit space Mimosa House will be presenting Tomaso Binga – A Silenced Victory the first solo exhibition in the UK of renowned Italian artist and poet Tomaso Binga. The exhibition will feature poetry, installation, photography, video, works on polystyrene, and new works on paper. Many of the works will be shown for the first time ever.
'Tomaso Binga' is the artistic pseudonym of Bianca Pucciarelli Menna (b. 1931, Salerno), which was adopted by the artist in the late 1960s. Working with poetry, writing, performance, collage and painting, Binga dissects and challenges the gendered nature of language – exposing patriarchy encrypted within its very structure. The paradoxical act of appropriating a masculine name allowed the artist to parody male prerogatives in society, emphasising women's lack of agency and voice within the arts and politics.
During her significant 1977 performance Bianca Menna e Tomaso Binga Oggi Spose [Just Married], Binga invited guests to attend the celebration of the 'wedding' between herself – Tomaso Binga, and herself – Bianca Menna. Cards and gifts were left by guests for the newly wedded couple, gradually forming an installation. Binga appeared at the event dressed androgynously: wearing a white embroidered shirt and trousers, short hair and glasses. A photograph taken from the 1977 performance will be shown at Mimosa House. The first floor of Mimosa House will be transformed with a recreated version of the immersive installation Casa Malangone – Carta da Parato (1976), which consists of wall-papered walls filled with decorative floral patterns and 'asemantic writing' – Binga's gestural and ineligible writing introduced by the artist in the early 70s. 'Asemantic writing' is a subliminal and liberating method of writing which acts beyond the common meanings of words and their sounding.
Binga has previously activated the space of Casa Malangone with her own body, wearing a dress made of the same wallpaper and reading aloud her poem I'm a paper. This performance – paradoxical in its act of merging with the decorative domestic space – refers to the concept of a muted female presence.
Binga's 1977 body of work on paper, Ti scrivo solo di domenica [I write you only on Sundays], will also feature at the Mimosa House exhibition. Ti scrivo solo di domenica (1977) is a sequence of 52 letters typed on traditional paper from the artist's native Amalfi coast, sent every Sunday to a female, imaginary friend. The first letter reads: "My dear Friend, I write to you only on Sundays, as Sunday is the only female day of the week" followed by others: "My dear friend, I open my mouth to smile," "My dear friend, I still believe in people," – all letters together forming one long poem.
Additional works on show will include Alfabeto Proverbiale from 1990s. Pages from 'A-B-C' books illustrated with children's imagery are combined with concise political manifestos to generate a variety of uncanny interpretations: A – Ape [Bee] – Arte e Armonia [Art and Harmony]; B – Barca [Boat] – Basta Bugie [Enough Lies]; C – Cane [ Dog ] – Cantare non Contare [Sing not Count]; and D – Dado [Cube] – Dare non Dire [ Give not Say ]. Throughout the rest of the multi-floor space, the exhibition will also feature Binga's recent and new works on paper – highlighting her continuing fascination with word play and rhymes, as well as her reflections on current feminist issues including body image and
surrogate motherhood.
The exhibition has been curated by Daria Khan.