North American Tour – BUTCH: Not like the other girls
Press release by SD Holman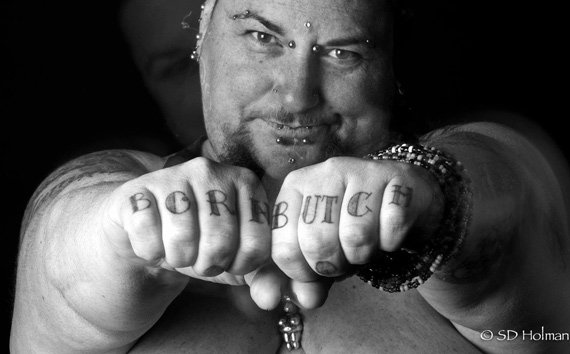 Photo-based artist SD Holman's acclaimed solo show BUTCH: Not like the other girls continues the Fall leg of its North American tour, with exhibition and book signing dates booked in San Francisco, Toronto and Wellesley College.
BUTCH is a photographic exploration of the liminal spaces occupied by female masculinity in contemporary queer communities. Holman delineates Butch as "an inclusive site of resistance to limitations on the way women, gender, and sexuality are still defined." The images honor the beauty, power and diversity of women who transgress the gender binary, with subjects reflecting the many sizes, shapes, ethnicities, and styles of Butch. The transversal dialectic of female masculinity is celebrated here — unapologetic and undiluted.
BUTCH: Not like the other girls debuted as a public art project in transit shelters around Vancouver, Canada, in March 2013, with a simultaneous gallery show at the Vancouver East Cultural Centre. According to Cultch administrators, the opening night – which attracted over 500 patrons – was the largest art opening in their 35 years of operation. The project went viral on the internet, leading to touring exhibitions across the continent. The exhibition catalogue was released by Shooting Gallery Publications in Spring 2014, and is available at bookstores in Vancouver, Seattle, Portland, San Francisco and Los Angeles.
A native of Los Angeles, artist SD Holman has exhibited internationally at galleries including the Advocate Gallery (Los Angeles), the Soady-Campbell Gallery (New York), the San Francisco Public Library, The Helen Pitt International Gallery, Charles H. Scott, Exposure, and Fotobase Galleries (Vancouver). Holman defines as a non-commercial, photo-based  artist, a participant observer employing subjective conceptual documentary practice. Holman's approach to photography is conflicted and perverse, bringing gesture, hazard, and a painterly sensibility into this most technical of media. Recipient of the 2014 YWCA Woman of Distinction Arts and Culture Award, and hailed by Guy Warrington as "the best portrait photographer in Vancouver," Holman is also Artistic Director of The Queer Arts Festival, an artist-run, three-week, multidisciplinary arts festival in Vancouver, BC.
"Female masculinity is a particularly fruitful site of investigation because it has been vilified by heterosexist and feminist/womanist programs alike: unlike male femininity, which fulfills a kind of ritual function in male homosocial cultures, female masculinity is generally received by hetero and homo normative cultures as a pathological sign of misidentification and maladjustment, as a longing to be and to have a power that is always just out of reach."
– Judith Halberstam, Female Masculinity
Upcoming Tour Stops
San Francisco
Sep 18 – Nov 18: Austin Gallery, 799 Castro, San Francisco, CA
Opening Reception and Book Signing: Thur Sep 18, 6-9pm (Folsom Weekend)
The opening party is free and open to the public; further showings are by appointment.
Wellesley College (Boston area)
Oct 2 – Oct 21: Jewitt Sculpture Gallery, Wellesley College, 106 Central Street, Wellesley, MA
Opening Reception and Book Signing: Thur Oct 2 2014
Toronto
Oct 30 – Jan 23: Canadian Lesbian & Gay Archives, 34 Isabella Street, Toronto, ON
Opening Reception and Book Signing: Thur Oct 30 2014.
---
Tagged Artists in This Post:
---