Vancouver – QUEER ARTS FESTIVAL 2014: ReGenerations
Press release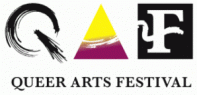 QUEER ARTS FESTIVAL 2014: ReGenerations
An annual three-week artist-run transdisciplinary arts festival, July 23 – August 9, Roundhouse Exhibition Hall and Performance Centre in Vancouver, Canada.
The 2014 Theme: ReGenerations
Queer Arts Festival (QAF) is delighted to unveil our 2014 theme, ReGenerations. A defiant reframing of the Nazi concept of "Degenerate Art", it is a celebration of our queer heritage – fecund, generative, and innovative, handed down by artists across generations and national boundaries. We speak to healing and renewal, addressing topics such as addiction, bullying, and queer rights internationally. ReGenerations is far-reaching and foregrounds cross-generational partnerships: our featured lineup of artists and performers are aged 18 to 80, our workshops and mentorships encourage collaboration between the emerging and established, and our programming connects historical queer icons to our living, contemporary art practice.
Highlights include X by Sunny Drake, Colin Tilney Celebrates LXXX, and Queering the International, curated by Laiwan and Anne Riley.
A transdisciplinary performance by Sunny Drake that addresses issues of addiction within queer communities, X is a fast-paced one-man show that incorporates stunning stop-motion animation, puppetry, and live performance. Drake was the recipient of the Arts Professional Award in the SummerWorks Performance Festival 2013, and Now Magazine recognized X in their "Best of the Fest" for Outstanding Performance, and Outstanding Design.
We also join early music legend and world-renowned keyboardist Colin Tilney in celebrating his 80th birthday with a solo harpsichord recital in Colin Tilney Celebrates LXXX, in partnership with Early Music Vancouver. A giant among the first generation of musicians who brought the idea of historically informed performance to the general concertgoer, Tilney is one of the few still actively performing today.
Exhibition: Queering the International Curated by Laiwan and Anne Riley
And finally, Queering the International Features the work of queer artists who are immigrant, indigenous, undocumented, or displaced. Through this exhibition, we see artists address the issue of creatively working towards a liberating indignity, and diaspora, all brought together by the curatorial talents of Laiwan and mentee Anne Riley. As the founder of Vancouver's Or Gallery, Laiwan is internationally recognized as an artist and curator, and is known for her practice based in poetics and philosophy. She is the recipient of the 2008 Vancouver Queer Media Artist Award, has curated projects in the US, Canada, and Zimbabwe, and is an activist in gay and feminist community organizing. Anne Riley is a promising young artist, curator, and intergenerational residential school survivor, working to cultivate and regain connections to her community, culture, and land.
QAF 2014 will also include the debut of Alien Sex, a new experimental commission that will have us bending both gender and genres. Featuring the works of playwright, director, and actor David Bloom; controversial heterosexual playwright David Mamet; poet and visual artist Samuel Ace; emerging slam poets Floyd VB and Olivia B; and more; Alien Sex combines whimsy, savage poetry, heartbreaking vulnerability, and B-movie joy.
And A Community Art Show
Produced by the Pride in Art Society, QAF celebrates the creative expressions of visual and performing artists who identify as queer. QAF is Canada's only professional queer festival with a curated visual arts exhibition, a community visual art show, a series of performing arts events, and workshops for all ages, with programming representing a broad spectrum of artistic expression from across many communities. QAF has established itself as a key incubator of creative queer culture in Vancouver, creating opportunities for artists to explore, and encourage artists to combine and explore genres.
Tickets for the festival will be available July 1st at Little Sister's, online at BrownPaperTickets.com, and at the door.
For more Information on programming for Queer Artist Festival 2014: ReGenerations, visit www.queerartsfestival.com, or contact Kenneth Yuen, Communications Coordinator, at Kenneth@prideinart.ca, and follow us on twitter @QAFVancouver!