Berlin: re.act.feminism Book Launch
Press release by re.act.feminism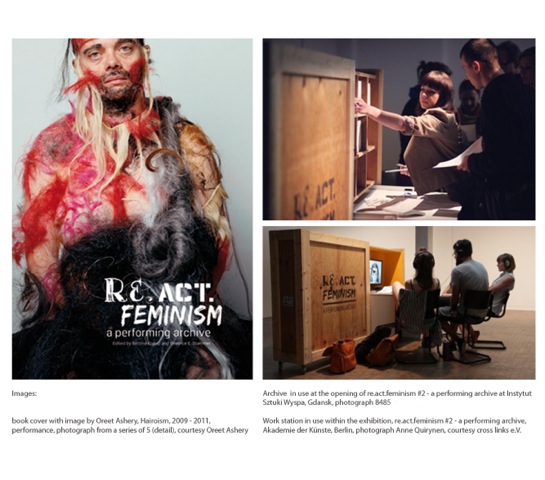 Re.act.feminism #2 – A performing archive
Editors: Bettina Knaup, Beatrice Ellen Stammer
Publisher: Nürnberg: Verlag für moderne Kunst
Content: 318 pages
ISBN: 978-3-86984-460-2
Year: 2014
Published by Verlag für moderne Kunst Nürnberg and Live Art Development Agency London
Berlin: re.act.feminism Book Launch
Finally – after three years of project development, seven exhibitions across Europe and numerous events – we are very happy to present the re.act.feminism book and cordially invite you to our book launch on:
Wednesday, 26 March 2014, 7pm – Künstlerhaus Bethanien, Kottbusser Str. 10, Berlin, Germany
We will introduce the book, but most of all on the occasion, we'd like to celebrate with you! Also there is the unique opportunity to auction one of the re.act.feminism archive modules or other paraphernalia during this evening.
This book of 320 pages includes eight essays by curators and scholars Kathrin Becker, Mathias Danbolt, Eleonora Fabião, Bettina Knaup, Laima Kreivytė / Oxana Sarkisyan / Mare Tralla / Reet Varblane, Laurence Rassel / Linda Valdés, Angelika Richter and Rebecca Schneider, seven visual essays, more than 200 illustrations, the biographies of all the 180+ participating artists and an appendix with German translations. Published by Verlag für moderne Kunst Nürnberg and Live Art Development Agency London.
Retail price: 29,- €
Special offer only on 26 March 2014! The book will be on offer for a discounted price. Special editions will be available with signatures by some of the artists and writers.
Looking forward to meet you at this occasion
Beatrice E. Stammer and Bettina Knaup and team
About re.act.feminism
re.act.feminism – a Performing Archive is an ongoing long-term archive, and an exhibition project on feminism and performance art travelling throught Europe from 2011 to 2013 with archives, exhibtions, workshops, performances, talks, research and now a book.
The works in the archive have been chosen based on their potential and relevance for today's feminist and queer debates and artistic strategies. The aim of the curators is to create a living archive and they have created great resource site about feminist and queer performance artists.