Zanele Muholi: Artist Talk and Exhibition in Sweden
Artist Talk
The Hasselblad Foundation is hosting an artist talk by South African queer photographer, artist and activist, Zanele Muholi. The event will take place on September 2, at the City Library on Götaplatsen in Göteborg, Sweden. The conversation will continue with an open lecture on September 3 at Valand Art Academy, Göteborg University.
MALMÖ FOTOBIENNAL 2015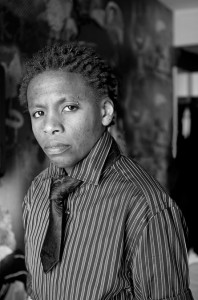 Visual activist Zanele's photography exhibition Zanele Muholi | We live in fear will be featured as one of the main exhibitions of the Malmö Fotobiennal 2015 – Contemporary Activism. The focus of the main exhibitions September 11 – 20, 2015 is on contemporary artists using the photography media not only for cultural but also for social and political expression. The work presented in the biennale are both dealing with global issues and disclosing introspective photographic projects showing us a wide spectrum of personal engagement. The photography biennale also presents an exhibition Laurence Rasti's exhibition There are no homosexuals in Iran.
Photo: Silva Dux Eiseb by Zanele Muholi.