Zanele Muholi: Isibonelo/Evidence – Extended!
Press release by Brooklyn Museum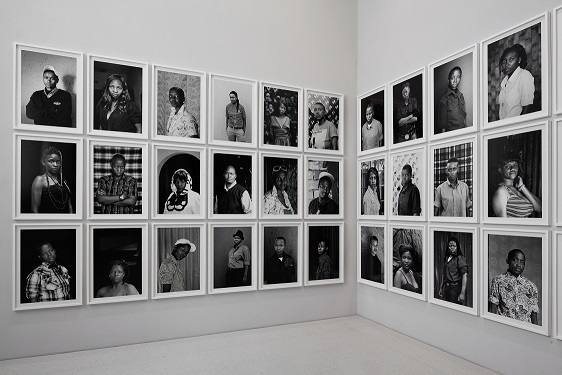 Zanele Muholi (South African, born 1972). Faces and Phases installed at dOCUMENTA (13), Kassel, Germany, 2012. (Photo: © Anders Sune)
Brooklyn Museum Extends Zanele Muholi: Isibonelo/Evidence
"Identity was used as a weapon, a tool for subjugation and oppression. Apartheid left a searing impression on Muholi, awakening in her the desire to become a keeper of memories, a warden of truth, given how easily it could be hidden, forgotten, rewritten." – New York Times Magazine, Jenna Wortham on Zanele Muholi.
[Isibonelo/Evidence], the most comprehensive museum exhibition to date in the United States devoted to the South African artist and activist Zanele Muholi, has been extended and is now scheduled to close on November 8, 2015. (…)
Related programming to the exhibition include:
Conversation: Zanele Muholi and Binyavanga Wainaina
Thursday, October 22, 7 p.m.
South African visual activist Zanele Muholi and Kenyan writer Binyavanga Wainaina discuss the current state of arts, literature, education, and LGBTI rights across Africa. Sharing a dedication to supporting home-grown artistic talent, these two progressive leaders share perspectives from their respective homes and their global travels. Presented by the Elizabeth A. Sackler Center for Feminist Art.
Panel Discussion: Rethinking Gender and Revealing New Paths
Saturday, October 24, 2 p.m.
Using the exhibition Zanele Muholi: Isibonelo/Evidence as a starting point, panelists explore gender as an ever-evolving concept and discuss the importance of providing positive models for multiple gender expressions. This intergenerational conversation considers gender within the context of multiple identities, including race, religion, and family.
Zanele Muholi: Isibonelo/Evidence is organized by Catherine J. Morris, Sackler Family Curator for the Elizabeth A. Sackler Center for Feminist Art, with Eugenie Tsai, John and Barbara Vogelstein Curator of Contemporary Art, Brooklyn Museum.
Support for this exhibition is provided by the Antonia & Vladimer Kulaev Cultural Heritage Fund, Abigail E. Disney and Pierre N. Hauser, and Tracey, Phillip, and Enoch Riese.