StressHat – a hat never goes out of fashion!
Press Release by NLHspace, Copenhagen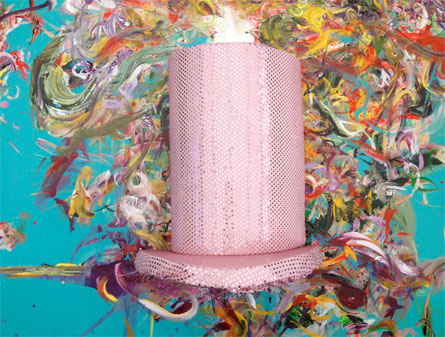 Stress-hat by Henriette Hellstern-Kjoeller
StressHat
- a hat never goes out of fashion!
by Henriette Hellstern-Kjoeller
October 6 – 30 2012 (can be experienced from the street all day/night) at
NLHspace
Vesterfaelledvej 63
1750 Copenhagen V
Opening: Friday, October 5th 5:20 pm.
The artist Henriette Hellstern-Kjoeller is also carrying a hat, and has for the exhibition in NLH‐Space worked with having everything under one and the same.
Meret Oppenheim created in 1942 – 1945 the illustration "Hat for Three Persons" which is the source of inspiration for the exhibition StressHat. "The Yes-hat" is also a hat, but with poisonous impact and often cadaver and soul does not follow along. Come and experience art works about multitasking, quick snack, uptempo, consequence and have a "yes, yes, yes, yes".
The theme is bent, caressed and punished in:
– psychedelic abundance of color executed in quick moves; theres no time!
– slumped breast rich queer felt massacre; we peak when we are 21 years!
– obscure clothing item with built-in electronics; for you who follow with the times!
The exhibition is Henriette Hellstern-Kjoeller's first solo‐show and is created especially for NLH‐Space and the dynamic environment around Vesterfaelledvej, and is to remind everybody day and night about time and movement. Join the opening carrying a hat if you dare?
Henriette Hellstern-Kjoeller
graduated from Funen Art Academy in 2011 and deals primarily with abject art and queer art. She has recently exhibited in Zürich, Berlin and Stockholm, and last year she won the baltic art price "Outstanding Work at Baltic Pride 2011".
Related Link
Henriette Hellstern-Kjoeller's website