Art Off the Wall: Chitra Ganesh: "Eyes of Time" at the Brooklyn Museum
Press release by the Brooklyn Museum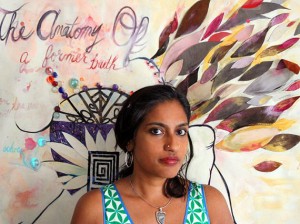 On Thursday, March 26 the Brooklyn Museum in New York presents Art Off the Wall: Chitra Ganesh: "Eyes of Time," an evening of activities throughout the museum in celebration of Brooklyn artist Chitra Ganesh's site-specific installation.
The program includes an exclusive screening of Ganesh's video work; a talk with the artist and Saisha Grayson, Assistant Curator, Elizabeth A. Sackler for Feminist Art; a Bhangra dance workshop; a zine installation curated by Brooklyn Zine Fest; and a dance party hosted by DJ Rekha.
Ganesh's work explores mythic representation of femininity, sexuality, and power though a variety of media from watercolors and drawings to films, photographs and text-based work. The Brooklyn Museum presentation draws from historical and mythic tales that reveal the fierce Kali, one of the figures honored with a place setting in Judy Chicago's
The Dinner Party (on permanent view in the Elizabeth A. Sackler Center for Feminist Art), as one of the many avatars of feminine divinity. The evening is free with $16 Museum admission, free for members.
The programs line-up follows:
ART OFF THE WALL: Chitra Ganesh: "Eyes of Time"
Thursday, March 26, 2015 at 6-9:30 p.m.
6:30 p.m.
Talk:Artist and Curator
Chitra Ganesh and Saisha Grayson, Assistant Curator of the Elizabeth A. Sackler Center for Feminist Art will discuss the exhibition Chitra Ganesh: Eyes of Time.
7 p.m.
Browse: Zine Library
Browse and respond to a zine library curated and hosted by Brooklyn Zine Fest, inspired by Ganesh's first major work, Tales of Amnesia (2002).
7:15 p.m.
Screening: Short Films by Chitra Ganesh
My dreams, my works must wait till after hell… (2011, 7 min.); created, directed, and produced by Girl (Simone Leigh and Chitra Ganesh)
Rabbithole (2010, 3 min.); animation, with music by Karsh Kale
What Remains (2009, 14 min.); written and directed by Sarita Khurana and Chitra Ganesh
8-9:30 p.m.
Dance: Warm Up with the Ajna Dance Company followed by Dance Party with DJ Rekha
Ajna Dance Company breaks down the basics of Bhangra in a participatory movement workshop. Then on to the Dance Party where producer and activist DJ Rekha spins a Bhangra dance set.
[Photo above: Chitra Ganesh, August 2014. Photo By Svati Shah.]